The 2014 NLIHC Annual Report is Online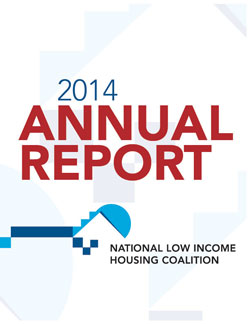 The National Low Income Housing Coalition (NLIHC) is proud to present its 2014 Annual Report, now available online. 
Highlights include:
NLIHC celebrated its 40th anniversary in 2014. It was in 1974 that Cushing Dolbeare convened a meeting of social justice advocates to form what would become NLIHC.
NLIHC published the 25th anniversary edition of Out of Reach in 2014, which continues to document the growing gap between renters' wages and the cost of rental housing nationwide – now in an interactive online format. 
NLIHC released the Alignment Project: Aligning Federal Low Income Federal Housing Programs with Housing Need last year, which provides an analysis of existing federal low income housing programs and the degree to which they serve extremely low income (ELI) households.
In 2014, the United for Homes campaign to modifying the mortgage interest deduction achieved organizational and elected official endorsements in all 435 Congressional Districts.
And in 2014, Federal Housing Finance Agency Director Mel Watt announced the lifting of the 6-year suspension on the requirement that Fannie Mae and Freddie Mac allocate funds to the National Housing Trust Fund.
To read the full 2014 NLIHC Annual Report, visit http://nlihc.org/article/2014-annual-report