Advocates Must Unite to End Sequestration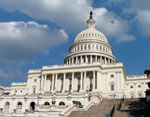 Actions are underway to end sequestration and prevent further cuts to non-defense discretionary programs, including HUD programs, in the FY16 federal budget.
On February 18, Non-Defense Discretionary (NDD) United sent a letter to Congress from 2,100 organizations, including more than 800 housing and community development organizations, urging Congress to replace sequestion and to avoid harming critical programs through additional budget cuts in FY16.  NLIHC represents housing, homeless, and community development organizations on the NDD United steering committee. 
Stopping the sequester cuts is one of the messages in a sign-on letter being circulated by the Strengthening America's Value and Economy (SAVE) for All Campaign. SAVE for All is coordinated by the Coalition on Human Needs and NLIHC participates. The letter to members of the House and Senate will urge Congress to pass a budget resolution that adheres to SAVE for All's four principles: (1) protect low income and vulnerable people, (2) invest in broadly shared prosperity that raises incomes across the economic spectrum, (3) increase revenues from fair sources, and (4) seek responsible savings by targeting wasteful spending in the Pentagon and elsewhere. Housing and homeless advocates are urged to join NLIHC in signing the letter by the March 12 deadline.
A new paper from the Center on Budget and Policy Priorities (CBPP), entitled Sequestration and Its Impact on Non-Defense Appropriations, succinctly describes how sequestration came to be and how more cuts would impact non-defense discretionary programs. According to CBPP, "the 2016 cap on non-defense appropriations is roughly at the 2015 enacted level for those appropriations, rising by just 0.2%." Without a reversal of sequestration, as the President has proposed in his FY16 budget request, the "2016 cap would be 17% below the comparable 2010 level after adjusting for inflation," the paper states.
Read the final NDD United letter to Congress, http://www.publichealthfunding.org/uploads/NDDUnited.SignOn.Feb2015.FINALwithSigs.pdf
Read and sign on to the SAVE for All letter, http://org.salsalabs.com/o/125/p/dia/action3/common/public/?action_KEY=17189
Read the CBPP paper on sequestration, http://www.cbpp.org/cms/index.cfm?fa=view&id=5272