Advocates Urged to Visit Senators and Representatives During Recess with Message to End Sequestration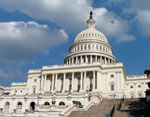 Members of Congress may be on recess this month, but housing advocates should not rest. Please take advantage of the Congressional recess to connect with your Congressional delegation to educate them about the importance of affordable housing and how sequester budget cuts will hurt low income families.
The Caps Hurt Communities campaign aims to raise awareness about the devastating impact of the federal budget cuts on affordable housing programs. NLIHC and its campaign partners encourage all advocates to speak to your Senators and Representatives while they are home to tell them why Congress must end sequester budget caps and increase resources for federal affordable housing programs.
The Campaign for Housing and Community Development Funding (CHCDF), which is coordinated by NLIHC, created the Caps Hurt Communities campaign. CHCDF is an education, strategy, and action hub for national organizations dedicated to robust federal housing and community development funding for lower income families and communities. The Caps Hurt Communities campaign website www.capshurtcommunities.org has suggestions for taking action. Advocates are encouraged to spread the word about the campaign on social media using the hashtag #CapsHurt.
NLIHC's 2015 Advocates Guide offers suggestions for scheduling a meeting with members of Congress, at http://nlihc.org/sites/default/files/Sec2.05_Lobbying-503C_2015.pdf and http://nlihc.org/sites/default/files/Sec2.06_Congressional-Advocacy_2015.pdf
During these meetings, advocates should express concern about drastic cuts in federal funding for affordable housing and urge the Members of their Congressional delegation to  push for elimination of the sequester budget caps to protect affordable housing for low income families and communities.
A number of our partners have already held meetings, including:
Advocates from Over-The-Rhine Community Housing (OTRCH) in Cincinnati met with Representative Steve Chabot (R-OH) to discuss affordable housing. They told him why Congress should pay more attention to low income individuals and families in need of housing.
Representatives of PUSH-CR from Cedar Rapids, IA, met with Senator Chuck Grassley (R-IA).
Speak UP advocates in the Los Angeles area held meetings with Representatives Lucille Roybal Allard (D-CA), Adam Schiff (D-CA), Judy Chu (D-CA), and staff of Senator Dianne Feinstein (D-CA) telling personal stories about how they overcame homelessness through supportive housing and requesting additional federal funding for affordable housing and community-based support service.
Photos from these meetings are available in the Caps Hurt Communities Photo Gallery. NLIHC encourages advocates to send photos and information related to their meetings to outreach@nlihc.org, so that other advocates can learn about their activities and progress in the Caps Hurt Communities Campaign.