Are You a Member? Join NLIHC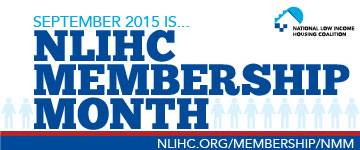 NLIHC launched its second annual Membership Month at the beginning of September. We welcome our new members and thank those who recently rejoined. Your membership and support is absolutely critical to NLIHC's ability to carry out our mission.
Please spread the word and recruit more members. The membership process is quick and easy. For existing members, Membership Month is an opportunity to reaffirm your commitment to fighting housing poverty and homelessness by encouraging your family members, friends and colleagues to join NLIHC. Visit our Membership page: http://nlihc.org/membership/nmm
We also invite you to use Facebook and Twitter headers prepared by NLIHC especially for the Membership Campaign so that you can spread the word among your social circles.
Click here to download our Twitter header: http://nlihc.org/sites/default/files/pictures/NMM_twitter_header.jpg
Click here to download our Facebook header: http://nlihc.org/sites/default/files/pictures/NMM_fb_header.jpg