Budget Committees Hear from CBO Director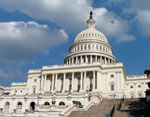 Congressional Budget Office (CBO) Director Doug Elmendorf testified regarding CBO's 2015 – 2025 budget and economic outlook before the House and Senate Committees on the Budget on January 27 and 28. Director Elmendorf reported that the federal budget deficit has "fallen sharply during the last few years" and that the economy is expected to "grow at a solid pace" over the next few years. However, after 2018 CBO projects that rising deficits will boost debt relative to gross domestic product (GDP) as spending for programs such as Social Security, Medicare, and Medicaid grow faster than the economy.
House Budget Chair Tom Price (R-GA) called CBO's lower GDP growth projections unsustainable." To change direction we need to focus on policies that can produce real results, ideas that will save and strengthen crucial health and retirement programs, balance the budget, and empower individuals, families and America's innovative workforce, not Washington bureaucrats. That's how we build the foundation for a healthy economy that will benefit every single American," Chair Price said.
House Budget Ranking Member Chris Van Hollen (D-MD) expressed concern about wage stagnation, saying that gains in the nation's productivity levels have not translated into higher wages for middle income people. "If you look at where those productivity gains have gone, they've gone disproportionately to folks at the very, very high end of the income scale. So, we need to have a tax code, ...an economic strategy that provides for greater shared prosperity. And I look forward to working with our colleagues as we head into budget season to address that very important issue," Mr. Van Hollen said.
Representative Mark Pocan (D-WI) asked Director Elmendorf whether Congress could be contributing to shrinking economic growth because of spending constraints it has put in place. Director Elmendorf replied that this is possible, but it depends on how appropriators decided to make the cuts required by the spending constraints. Representative Kathy Castor (D-FL) noted that Congress's focus seems to be on decreasing discretionary spending, even though discretionary spending is such a small piece of the federal spending pie.
Senate Budget Committee Ranking Member Bernie Sanders (I-VT) called for an increased minimum wage, increased investment in infrastructure, an end to childhood poverty, and an expansion of Social Security "so that all of our seniors and people with disabilities live with dignity and not in desperation." He also called for "real tax reform" stating, "It is unacceptable, that each and every year, millionaires, billionaires and profitable corporations are avoiding $100 billion in taxes by stashing their cash in the Cayman Islands and other offshore tax havens." 
Senate Budget Chair Mike Enzi (R-WY), regarding CBO's projections, said, "The longer we postpone reforms and put off making tough decisions, the deeper the hole we have to climb out of. Let's not miss the opportunity before us to start down a new path and address our problems head on."
Senator Angus King (I-ME) noted how discretionary spending is at an all-time low, "and yet most of our cutting focuses on this relatively small target." Senator King added, "When we are cutting Head Start or the defense budget in order to solve this deficit problem, it's like attacking Brazil after Pearl Harbor. It's a vigorous response but it's the wrong target…If we don't deal with growth in mandatory spending and look at the revenue side, there's really no way out."
Director Elmendorf agreed, saying, "Given how low discretionary spending is on track to be, there seems to be no getting around cutting mandatory costs, raising taxes, or some combination of the two."
House budget materials, including CBO testimony, are at http://budget.house.gov/hearingschedule2015/the-congressional-budget-office-s-budget-and-economic-outlook.htm