Budget Committees Hear from OMB Director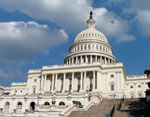 Following President Barack Obama's delivery of his budget request to Congress on February 2, Office of Management and Budget (OMB) Director Shaun Donovan testified before the Senate and House Budget Committees on February 3 and 4, respectively.
In describing the Administration's budget before the committees, Mr. Donovan stated that "returning to the mindless austerity of sequestration in 2016 would bring discretionary funding to its lowest level, adjusted for inflation, since 2006." The budget would exceed the discretionary spending caps for FY16 set by the Budget Control Act of 2011 (BCA) by $74 billion, split between defense and nondefense programs. "The budget proposes to end sequestration, fully reversing it for domestic priorities in 2016, matched by equal dollar increases for defense," Mr. Donovan said.
The Chairs of both the House and Senate Committees on the Budget were critical of the President's request. House Budget Chair Tom Price (R-GA) took issue with the Administration's assertion that the request offered a balanced budget. "In order to increase spending across the board, the president's budget would unravel bipartisan agreements that have secured a modicum of spending restraint in recent years. We can all agree that there are smarter ways to control spending and get our fiscal house in order, but the president is not proposing a smarter way to restore fiscal responsibility. He's just abandoning the effort," Chair Price said.
Senate Budget Chair Mike Enzi (R-WY) expressed a similar sentiment in his opening statement: "I meant it when I said last week that we must confront spending. Bring the deficit to an end, and, ultimately, balance the budget. The President's proposal fails all three elements of our mission."
Mr. Donovan told members of the House Budget Committee that increasing spending on discretionary programs makes sense now that "discretionary spending is near its lowest level in 50 years." Mr. Donovan stated that the Administration is also committed to looking at the Overseas Contingency Operations (OCO) account to see how its costs can be brought back into the regular discretionary spending budget.
Currently the OCO fund is an off-budget mandatory spending account that provides the Defense Department a large source of flexible funds outside the department's discretionary spending caps. Some argue that a large OCO off-budget account belies the notion that there is BCA-cap parity between non-defense and defense discretionary accounts, asserting that non-defense discretionary programs are impacted disproportionately. According to the Friends Committee on National Legislation, which analyzes Pentagon spending, there may be $20 billion to $30 billion in the OCO account annually that is unrelated to any war activity.
Ranking Members of the House and Senate Budget Committee spoke in support of the President's FY16 request at the hearings. Senator Bernie Sanders (I-VT), Ranking Member of the Senate Budget Committee, stated, "If we are serious about rebuilding the disappearing middle class, reducing income and wealth inequality, and strengthening Social Security, Medicare, and Medicaid, we need a budget that creates millions of jobs, raises wages, makes college more affordable, and demands that the wealthiest people in this country pay their fair share.  In all of these matters, the President's budget moves this country in the right direction."
House Budget Ranking Member Chris Van Hollen (D-MD) told Mr. Donovan that he is glad the United States did not pursue European-style austerity measures and stated, "The President's budget accomplishes . . . ambitious goals while putting us on a path to fiscal sustainability through smart, responsible deficit reduction."
Senate Budget Committee hearing documents are at: http://www.budget.senate.gov/republican/public/index.cfm/2015/2/the-president-s-fiscal-year-2016-budget-proposal
House Budget Committee hearing documents are at: http://budget.house.gov/hearingschedule2015/the-president-s-fiscal-year-2016-budget.htm
For analysis by the Friends Committee on National Legislation, go to http://fcnl.org/issues/budget/Final_Pentagon_Should_Pay_Its_Fair_Share.pdf.