"Caps Hurt Communities" Webinar on Federal Budget and Sequestration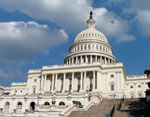 The Campaign for Housing and Community Development Funding (CHCDF) will conduct a free webinar, Spending Caps, Budget Negotiations, and the Impact on Housing and Community Development in Your Community on Monday, October 19 at 3pm ET.
The webinar will focus on the current budget negotiations and how sequestration or a year-long Continuing Resolution would impact affordable housing, homeless, and community development programs. The webinar will also highlight what advocates can do to engage in media communications and to influence elected officials to negotiate a positive budget outcome.
Speakers confirmed for the webinar include: Linda Couch, Senior Vice President for Policy, National Low Income Housing Coalition; Doug Rice, Senior Policy Analyst, Center on Budget and Policy Priorities; Robert Friant, Communications Manager, Corporation for Supportive Housing; and Sarah Mickelson, Senior Analyst, Project Manager, Enterprise Community Partners.
CHCDF is an ad hoc coalition of more than 70 national housing, homelessness, and community development organizations working together for the maximum possible funding for such programs. The work of CHCDF is coordinated by NLIHC.  The webinar is part of CHCDF's "Caps Hurt Communities" campaign, www.capshurtcommunities.org.
Visit www.capshurtcommunities.org/#!take-action/c3us to register for the webinar.