Federal Budget: House Budget Hearing, Senate Budget Timing, New Sequester FAQ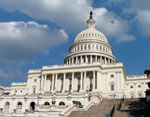 The House Committee on the Budget, chaired by Representative Tom Price (R-GA), has scheduled a hearing for January 27 entitled "The Congressional Budget Office's Budget and Economic Outlook." The Congressional Budget Office (CBO) produces nonpartisan, independent analyses of budgetary and economic issues to support the Congressional budget process. CBO Director Douglas Elmendorf is the hearing's sole witness. The hearing will be at 10:30am ET in room 210 of the Cannon House Office Building.
Senate Committee on the Budget Chair Mike Enzi (R-WY) said on January 22 that he intends to mark up a budget resolution in committee during the third week of March and to bring the resolution to the full Senate for a vote in the last week of March.
The House and Senate Budget Committees develop their own budget resolutions, which are subsequently considered by their respective chambers. Then the House and Senate work to have one final, concurrent budget resolution agreed upon by both chambers by April 15. In recent years, Congress has not produced a concurrent budget resolution and each chamber operated under its own resolution. With both chambers controlled by the same party this year, a concurrent resolution is more likely.
The FY16 budget resolution will set the overall framework for federal spending, including caps for nondefense discretionary spending on programs. Most housing and community development programs are in the nondefense discretionary part of the federal budget.
The concurrent budget resolution could include nondefense discretionary spending caps lower than the Budget Control Act (BCA) of 2011 (see Memo, 8/5/11) requires for FY16, making it very difficult for the appropriations committees to produce minimally acceptable appropriations bills. If the FY16 budget resolution breaches the spending caps established by the BCA, then a sequester will occur equal to the amount above the caps. If the caps are not breached, there will be no sequester. But if the caps are very low, funding for housing and community development programs will suffer regardless.
As explained in a January 16 publication by the Democratic Caucus of the House Budget Committee, Frequently Asked Questions about Sequestration, there is no waiver of the sequester unless there is a declaration of war. "The only option for changing it would be to enact legislation to amend the BCA, which Congress has already done twice (in December 2012 and December 2013)."  The changes made to the BCA in December 2013 by the Bipartisan Budget Act of 2013 (see Memo, 12/13/2013) provided significant relief for discretionary spending in FY14 and FY15, but not for future years. "The new caps will keep the defense and non-defense discretionary levels basically flat from FY 2014 through FY 2016," according to the paper. If these flat spending caps remain in place and no changes to the BCA are enacted, appropriation levels for HUD programs in FY16 could be the worst in several years.
The sequester FAQ is at, http://1.usa.gov/1wxJkgc