Four New Interns at NLIHC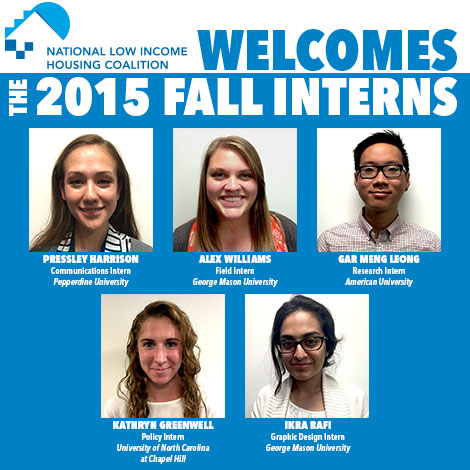 Four new interns have joined the NLIHC team. Alex Williams will be at NLIHC for two semesters completing her Masters in Social Work practicum. She is currently pursuing her MSW with a concentration in Social Change at George Mason University. Alex has community engagement and outreach experience with refugees, immigrants, youth and families. She has a BSW from James Madison University. Alex is on the field team.
Gar Meng Leong joins as the Fall Research Intern. He recently graduated from American University with a B.A. in Political Science. An international student from Singapore, Gar Meng previously worked at American University's School of Education as a research assistant with a focus on the eating habits of elementary school children. His areas of interest are voting behavior, education, minimum wage, and gentrification policy.
Ikra Rafi is NLIHC's Fall Graphic Design Intern. Ikra was born and raised in the DC metropolitan area and is currently a senior at George Mason University's School of Art, majoring in Art and Visual Technology with a concentration in Graphic Design. She received an Associates of Applied Science Degree from Northern Virginia Community College before she transferred to GMU.
Kathryn Greenwell is NLIHC's Fall Policy Intern. She is a recent graduate of the University of North Carolina at Chapel Hill, with degrees in Political Science and Anthropology. As a native of North Carolina, she is excited to experience life in D.C. during her internship at NLIHC.