FY16 Budget Briefings Scheduled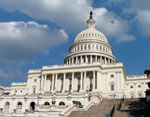 On April 27, the Campaign for Housing and Community Development Funding (CHCDF) will host two briefings for House and Senate staff entitled "The President's FY16 Budget Requests for Housing and Community Development Programs." CHCDF is a coalition of national organizations coordinated by NLIHC.
Panelists will discuss President Barak Obama's budget request for HUD and USDA housing programs, past program funding levels, the Administration's proposed programmatic changes, and the impacts of sequestration. Panelists include experts representing a broad spectrum of housing and community development organizations.
The first briefing will be held at 1:00pm ET in room 106 of the Dirksen Senate Office Building. The second briefing will be held at 4:00pm ET in room 122 of the Cannon House Office Building. NLIHC urges advocates to encourage Congressional staff to attend.