GOP Presidential Candidates On Housing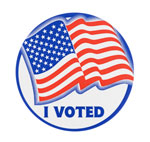 On Tuesday, November 10, Republican presidential candidates met in Milwaukee, WI for the fourth GOP debate. Housing was mentioned on three occasions during a portion of the debate focused on the candidates' proposals for tax reform.
When asked how he would pay for his tax reform proposals, Senator Ted Cruz (R-TX) called attention to the savings generated by his newly released Five for Freedom spending plan. The plan includes abolishing five federal agencies, including HUD. Abolishing HUD - and other federal agencies - is a perennial proposal from Republican presidential candidates.     
When discussing their respective positions on tax reform, both Dr. Ben Carson and Senator Rand Paul (R-KY) referenced the mortgage interest deduction (MID). Dr. Carson stated his support for eliminating the MID as part of his "flat tax" plan, while Senator Paul affirmed his support for preserving the deduction.
Senator Cruz's spending plan is at: https://www.tedcruz.org/five-for-freedom/ 
Ben Carson's tax plan is at: https://www.bencarson.com/issues/tax-reform
Senator Paul's tax plan is at: https://www.randpaul.com/issue/taxes