House Appropriations Committee Passes THUD Bill on Party Line Vote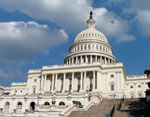 On May 13, the House Committee on Appropriations passed the FY16 Transportation, Housing and Urban Development, and Related Agencies (THUD) bill by a party line vote of 30 to 21. All Democrats opposed the bill. The bill does not yet have a bill number.
Committee Chair Harold Rogers (R-KY) defended the bill as one that "strikes a smart, intentional balance between funding essential programs and making responsible reductions to lower-priority activities to make sure we meet our tight-budget guidelines." Committee Democrats opposed the bill because of its inadequate funding for HUD's housing and community development programs, as well as transportation programs. Democrats also opposed a policy rider that would restrict travel to Cuba and provisions to loosen regulations on the trucking industry.
THUD Appropriations Subcommittee Ranking Member David Price (D-NC) said the bill was "fundamentally flawed" because of its Subcommittee allocation and Congress's "self-imposed austerity," referring to the Budget Control Act of 2011's sequester spending caps. "We cannot write a credible bill without a new budget agreement," Ranking Member Price said.
Full Appropriations Committee Ranking Member Nita Lowey (D-NY) also urged a new budget framework. "Congratulations on moving make-believe bills," Ranking Member Lowey said to Chair Rogers.
THUD Subcommittee Chair Mario Diaz Balart (R-FL) urged Committee members to keep the bill's overall funding level within the Subcommittee's allocation. "I'd like to remind people that if we wrote to a number that exceeded the budget resolution, the sequestration that would hit in 2016 wouldn't take into account our priorities. We wouldn't be able to protect the transportation systems our nation depends on, or provide housing to millions of American families. This bill takes steps to make sure our highest priorities are adequately funded," Chair Diaz Balart said.
In a letter to Chair Rogers dated May 11, White House Office of Management and Budget (OMB) Director Shaun Donovan raised numerous objections to the THUD bill. Director Donovan said the THUD bill fails to provide sufficient funding to renew 28,000 existing housing choice vouchers. In addition, he noted that the bill does not provide any funding for the 67,000 vouchers lost by the 2013 sequester not yet restored by Congress.
In a blog post by Mr. Donovan dated May 13, he wrote that the THUD bill would "reduce access to affordable housing" and "set back efforts to end homelessness." The blog also provides fact sheets describing how the bill would affect each state. For example, the bill would not provide adequate funding to renew 130 existing vouchers in Maine and in Rhode Island and 3,590 existing vouchers in New York.
During Committee markup, each amendment to increase funding for housing programs failed by party-line votes, including one by Representative Barbara Lee (D-CA) to remove language raiding the National Housing Trust Fund (NHTF) of all of its future funds. Ms Lee's amendment would also increase HOME Investments Partnership program FY16 funding to $1.06 billion, the level requested by HUD (see related article).
Ranking Member Price offered an amendment to strike the bill's raid on the NHTF and to increase funding for the Public Housing Capital Fund, the Choice Neighborhoods Initiative, and the Section 202, Section 811, HOME, and Healthy Housing and Lead Hazard Control programs. Ranking Member Price acknowledged that his amendment would breach the THUD Subcommittee's allocation and thus the spending caps, but said, "We cannot write even a minimally acceptable bill under the caps. We can change them now or we can change them later. Let's serve notice now that the caps must be raised or we can't write a bill. Appropriators of the world, unite!" The amendment failed along party lines by a vote of 21 yeas to 29 nays.
Ranking Member Nita Lowery offered an amendment to increase funding for HUD's Office of Healthy Housing and Lead Hazard Control by $45 million to President Barak Obama's FY16 budget request level of $120 million. Ranking Member Price spoke in favor of the amendment, calling lead poisoning "100% preventable." The amendment failed by voice vote.
Representative Marcy Kaptur (D-OH) offered an amendment to fund 30,000 vouchers lost due to the 2013 sequester cuts, targeting 22,500 vouchers for homeless veterans with the balance targeted to families participating in the Family Unification Program and to victims of domestic violence. The amendment failed on a party line vote of 21 yeas and 29 nays.
During the mark up, Representative Mike Quigley (D-IL) offered and withdrew an amendment in support of HUD's FY16 proposal to remove the 185,000-unit limit on the number of public housing units that may participate in the Rental Assistance Demonstration (RAD). RAD allows public housing units to convert their subsidy stream from public housing subsidies to either project-based rental assistance or project-based vouchers, which allow public housing authorities to access greater sources of private redevelopment financing.
No date has been set for the bill to go the House floor.
The House THUD markup webcast and documents are at: http://appropriations.house.gov/calendar/eventsingle.aspx?EventID=394196
OMB Director Shaun Donovan's blog and state fact sheets are at: https://www.whitehouse.gov/blog/2015/05/13/house-republicans-shortchange-funding-transportation-housing-and-other-critical-do-0
OMB Director Shaun Donovan's May 11 letter is at: https://www.whitehouse.gov/sites/default/files/omb/legislative/letters/thud_appropriations_letter_5-11-15_hal_rogers.pdf
NLIHC's budget chart is at http://nlihc.org/sites/default/files/FY16_HUD-USDA-Budget-Chart_042815.pdf
A blog by NLIHC President and CEO Sheila Crowley on the bill can be found at https://nlihc.wordpress.com.