House Appropriations Subcommittees Get FY16 Allocations; House THUD Markup Scheduled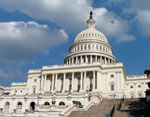 The House Appropriations Committee approved subcommittee allocations, known as 302b allocations, to its 12 subcommittees on April 22. The House FY16 302b allocation for the Transportation, Housing and Urban Development, and Related Agencies (THUD) Subcommittee is $55.27 billion, $1.5 billion more than the final FY15 THUD amount. The House THUD Subcommittee on will mark up its FY16 appropriations bill on April 29.
The budget resolution sets overall spending for the federal government. The FY16 concurrent budget resolution currently in negotiation likely will maintain the sequester spending caps mandated by the Budget Control Act (BCA) of 2011 (see related article). These spending caps dictate nondefense discretionary spending for FY16 that is flat with FY15 funding. Other subcommittees, such as the Labor, Health and Human Services, Education, and Related Agency Subcommittee, received cuts compared to their House FY15 allocations.
The House THUD 302b allocation for FY16 is not sufficient to adequately fund all HUD programs, much less any increases needed for the Department of Transportation, or the "related agencies" such as the U.S. Interagency Council on Homelessness. HUD alone will need about $3 billion more than provided in FY15 just to renew existing assistance. The $3 billion gap is due to $1 billion in reduced revenue from the Federal Housing Administration and $2 billion necessary to renew all existing vouchers and project-based rental assistance contracts.
At the Committee's markup to consider the 302b allocations, House Appropriations Committee Ranking Member Nita Lowey (D-NY) spoke against the low 302b allocations. "If the past is a guide, capital programs will be grossly underfunded at this allocation. Specifically, it is likely that CDBG and HOME will be reduced to the lowest levels in history," she said.
Representative Lowey offered an amendment to increase the allocations, dismissing the caps imposed by the BCA. In a tweet, @NitaLowey, she said, "inadequate allocations will make it difficult, if not impossible, to pass Appropriations bills on the floor." Her amendment failed by a party line vote of 29 to 20. Committee Chair Harold Rogers (R-KY) criticized Ms. Lowey's amendment saying it would "shatter the spending caps."
Also on April 22, the House Appropriations Committee approved two spending bills: Energy and Water Development, and Related Agencies, and Military Construction, Veterans Affairs, and Related Agencies.
White House Office of Management and Budget Director Shaun Donovan wrote to appropriators on the eve of their markups, criticizing their budget plans. "The Republicans' 2016 budget framework would bring base discretionary funding for both defense and non-defense for FY 2016 to the lowest levels in a decade," he wrote.
Mr. Donovan also said in his letter tha, by giving a relatively high 302b allocation for the Energy and Water Subcommittee, other nondefense discretionary programs would have to be cut by about 8%. "Hundreds of thousands of veterans rely on a wide range of Department of Housing and Urban Development programs for housing support and homeless assistance each year. Funding for these services is provided in the Transportation, Housing and Urban Development, and Related Agencies Appropriations bill," he said.
The April 29 markup will begin at 9:30am in room 2358-A of the Rayburn House Office Building.
NLIHC's FY16 priorities are at http://nlihc.org/sites/default/files/NLIHC_FY16_priorities.pdf.
The House 302b allocations are at http://appropriations.house.gov/UploadedFiles/FY2016-302b.pdf
OMB Director Donovan's letter to appropriators is at https://www.whitehouse.gov/sites/default/files/omb/legislative/letters/mc-committee-letter-chairman-harold-rogers.pdf