House Financial Services Committee Votes to Send "Views and Estimates" to Budget Committee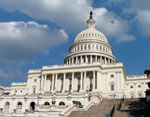 On February 12 and 13, the House Financial Services Committee considered its "Views and Estimates" on President Barack Obama's FY16 budget request for programs under the Committee's jurisdiction. The "Views and Estimates" are submitted to the House Budget Committee for its consideration in formulating the FY16 budget resolution.  Overall, the Committee's "Views and Estimates" are critical of HUD programs, stating, "… the sheer number of these programs and the amount of taxpayer money expended on them have fallen short of meeting their goals of eliminating poverty and providing affordable housing."
Housing and Insurance Subcommittee Ranking Member Emanuel Cleaver (D-MO) offered an amendment to include language in the "Views and Estimates" on "the tremendous need for rental and homelessness assistance." He stated: "HUD's Worst Cast Housing Needs: 2015 Report to Congress reports that in 2013, 7.7 million very low-income unassisted families paid more than half of their monthly income for rent, lived in severely substandard housing, or both."  He went on to note that HUD's January 2015 Point-in-Time Count revealed 578,424 people experiencing homelessness on any given night in the United States, and that 17.7% of the nation's rural population lives in poverty.
"In the richest country in the world, it is unconscionable that there are millions of American families for whom safe and decent housing is neither affordable nor available," Mr. Cleaver said. "And while the private sector has played a critical role in funding and preserving affordable rental housing across the country, the free market is not a panacea to solving our nation's homeless and rental housing crises."
Chair Hensarling objected to the Cleaver amendment. "Many of us believe," Mr. Hensarling said, "that the government is not the panacea." He also objected to language in the Cleaver amendment that supported efforts to "fully fund" federal rental and homeless assistance programs.  
Mr. Hensarling offered Mr. Cleaver the opportunity to revise his amendment by removing its language that "the free market is not a panacea" and that federal rental and homeless assistance program be fully funded.  Mr. Cleaver declined to revise his amendment, which ultimately failed on a party line vote of 23 to 32.
The Committee agreed, by voice vote, to an amendment offered by Representative Joyce Beatty (D-OH) supportive of the Housing Choice Voucher (HCV) program. The amendment adds language to the "Views and Estimates" that "The Committee fully supports the HCV program, and looks forward to working with the Administration on strengthening the program."
An earlier version of the amendment by Mrs. Beatty included "expanding" the voucher program, but Mr. Hensarling opposed the expansion language. "For millions, the Section 8 program is invaluable.  It's critical to their lives. But HUD does not track or measure how these program funds are used," Mr. Hensarling said. "How many lives are lifted from government dependency (by the voucher program)?" he asked.
The Committee voted to approve the "Views and Estimates" on a party line vote of 32 to 22.
Read all Views and Estimates materials: http://financialservices.house.gov/calendar/eventsingle.aspx?EventID=398673.
Read HUD's Worst Case Housing Needs:  2015 Report to Congress, Executive Summary: http://www.huduser.org/portal/publications/affhsg/wc_HsgNeeds15.html.