House Passes Concurrent Budget Resolution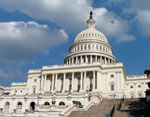 By a vote of 226 to 197, the House of Representatives passed the Concurrent Resolution on the FY16 Budget on April 30. Fourteen Republicans joined all Democrats to oppose the measure, S. Con. Res. 11. The concurrent budget resolution is a product of negotiations between the Senate and House on their respective budget resolutions (see Memo, 4/27).
For FY16, the concurrent resolution continues sequester spending caps for FY16 while also skirting these spending cap rules for defense spending with a $38 billion off-budget increase for the Overseas Contingency Operations account. The concurrent resolution does not include the House budget resolution's reconciliation instructions to the House Committee on Financial Services to identify at least $100 million in mandatory savings. The concurrent resolution does include reconciliation instructions to the appropriate committees to repeal the Affordable Care Act.
The Senate is expected to take up the resolution the week of May 4.
A concurrent budget resolution sets the overall framework for both discretionary and mandatory spending, and revenue raising, including taxation. It is not a bill and does not go to the President for his signature. Congress has been unable to pass a concurrent budget resolution for several years.