House Subcommittee Acts on FY16 Rural Housing Bill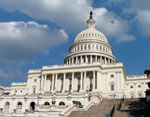 The House Appropriations Subcommittee on Agriculture, Rural Development, Food and Drug Administration, and Related Agencies approved its FY16 spending bill by voice vote on June 18. The bill would fund most USDA Rural Housing Service programs at FY15 levels for the next fiscal year. The bill would also reject the Administration's request to impose a $50 per month minimum rent on Section 521 Rental Assistance households. NLIHC and other organizations oppose minimum rents (see Memo, 4/18/14).
For FY16, the bill would increase funds for Section 521 Rental Assistance from $1.089 billion in FY15 to $1.167 billion in FY16, almost up to President Barack Obama's request of $1.172 billion. The Section 515 Rural Rental Housing program would receive $28.4 billion, the same as in FY15. According to analysis by the Housing Assistance Council (HAC), the FY16 bill also contains language that would not renew Rental Assistance contracts if they use all of their funds before the end of their 12-month contract renewal periods. This provision was in the FY15 bill. HAC indicates that this policy affects only a few Rental Assistance contracts, and that USDA is working to further reduce the impact of this policy.
The bill would provide $7 million for Section 542 vouchers, the same as in FY15. These vouchers are provided to tenants living in Section 515 properties when the mortgages on those properties are prepaid. When mortgages on Section 515 properties mature, however, residents who have Section 521 Rental Assistance stop receiving assistance. Mortgages on Section 515 properties representing more than 33,000 units of rural multifamily housing are expected to mature by 2024. Therefore, HAC and other organizations contend that the use of Section 542 vouchers should be expanded to cover tenants in Section 515 properties when the mortgages on those properties mature. USDA sought such an expansion in its FY16 budget request, but it is not in the House FY16 bill.
HAC's analysis of the bill is at http://ruralhome.org/whats-new/menu-policy/1168-house-fy16-agriculture-funding-bill-released
NLIHC's budget chart, http://nlihc.org/sites/default/files/FY16HUD-USDA_Budget-Chart.pdf.