House Subcommittee Holds First THUD Appropriations Hearing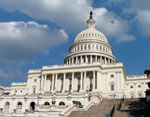 The Transportation, Housing and Urban Development, and Related Agencies (THUD) Subcommittee of the House Committee on Appropriations conducted a hearing regarding HUD's FY16 budget request on February 25. HUD Secretary Julián Castro was the hearing's only witness. The Obama Administration submitted its FY16 budget request, including HUD's budget, to Congress on February 2 (see Memo, 2/9).
Subcommittee Chair Mario Diaz-Balart (R-FL) questioned the 9% increase HUD is seeking for FY16. "HUD is requesting $49.3 billion in new budget authority in Fiscal Year 2016 – a 9% increase over 2015. That's an ambitious request in a year where we are all still bound by the Budget Control Act sequester order. I don't see any agency receiving a 9% increase over the prior year under current law," Mr. Diaz-Balart said in his opening statement, adding that HUD has "tremendous problems" managing its resources as it is.
Chair Diaz-Balart said that since becoming Subcommittee Chair in January, he has become aware of all of the "IG [HUD Office of Inspector General] audits regarding HUD's basic administrative controls: lax oversight of grantees, questionable hiring, Anti-Deficiency Act violations, poor IT management and systems, and on and on." Taking aim at people receiving HUD assistance, Mr. Diaz-Balart said, "Heck – last year, with days left in the fiscal year, you [HUD] sent up a reprogramming letter to rearrange funds in order to pay rent. Rent! It's what we expect of HUD tenants."
Subcommittee Ranking Member David Price (D-NC) discussed cost constraints created under the Budget Control Act (BCA) of 2011. Mr. Price said that the BCA "is the law of the land, for better or worse, and I'd say mainly for worse." He criticized Congress's "self-imposed austerity" and its focus on appropriations cuts to shrink the deficit. Mr. Price thinks another softening of the BCA's spending caps is needed for FY16, as was provided by the 2013 Ryan-Murray deal that alleviated the impact of sequester caps for FY14 and FY15.
Secretary Castro said the FY16 HUD budget request will protect the "vulnerable recipients of HUD rental assistance," make progress on the federal strategic plan to end homelessness, and put HUD-subsidized public and assisted housing on a financially sustainable path.
Ranking Member Price questioned Secretary Castro on HUD's proposal to restore lost vouchers. HUD's budget request would restore the 67,000 housing choice vouchers that were lost because of the sequester's 2013 cuts.  HUD would target these 67,000 vouchers to specific populations, including 22,500 for families, veterans, and Native American families experiencing homelessness. Targeting would be achieved through a competitive allocation of vouchers to public housing agencies (PHAs) that partner with their local Continua of Care to identify families. Another 5,000 vouchers would support victims of domestic and dating violence, and approximately 2,500 vouchers would support the Family Unification Program. The remaining 37,000 of the restored vouchers would be targeted to PHAs based on relative need.
Mr. Price said there may be some administrative efficiency issues with having too many targeted populations. Secretary Castro said that some of the targeting to special populations is modeled on HUD's experience with Veterans Affairs Supportive Housing (VASH) vouchers, and that using targeted vouchers can very successful. Mr. Price said that it is worth thinking about how much of the VASH model is really replicable.
Representative Henry Cuellar (D-TX) thanked Secretary Castro for the proposal to increase funds for the Colonias communities that border Mexico. Mr. Cuellar said there are about 2,000 Colonias in Texas. HUD is requesting an amendment to the Community Development Block Grant (CDBG) statute to increase from 10% to 15% the set-aside for Colonias in the CDBG funds received by the states of Arizona, California, New Mexico, and Texas.
Representative David Jolly (R-FL) said he is concerned that HUD is moving to a Housing First approach in its homeless assistance programs. "Transitional housing providers have been very successful in my District," Mr. Jolly said, more successful than Housing First. Secretary Castro responded that there is value in transitional housing, but "we have found that Housing First is a particularly successful model." Secretary Castro said that HUD continues to fund programs that operate under both models.
Chair Diaz-Balart said the Subcommittee will hold two additional hearings on HUD's budget request, one on housing programs and the other on community development programs.
Hearing documents are http://appropriations.house.gov/calendararchive/eventsingle.aspx?EventID=393989