Housing Spotlight | Volume 5, Issue 1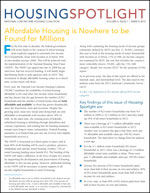 Housing Spotlight: Affordable Housing is Nowhere to be Found for Millions is the 4th issue of the Housing Spotlight series to focus on the gap between the number of low income renters and the number of units that are affordable and available to them. NLIHC's analysis of the 2013 American Community Survey shows that there is a national shortage of 7.1 million affordable rental units available to renter households with incomes at or below 30% of area median income.  The Spotlight goes on to stress how difficult it is for renters with the lowest incomes to find housing they can afford across every state and major metropolitan area in the country. In this Spotlight NLIHC provides data on the shortage of affordable rental homes to households with income at or below 15%, 30%, 50% and 80% of area median income. 
To download the State Map Featured in the issue, click here.
Megan Bolton, Research Director
megan@nlihc.org | 202.662.1530 x245