Minimum Rents in Rural Housing Discussed at Rural Development Hearing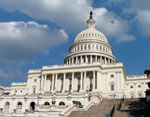 On March 19, the Subcommittee on Agriculture, Rural Development, Food and Drug Administration, and Related Agencies of the House Committee on Appropriations conducted a hearing about the U.S. Department of Agriculture (USDA) FY16 budget request for Rural Development (RD). Witnesses included Under Secretary for Rural Development Lisa Mensah and Rural Housing Service Administrator Tony Hernandez.
Subcommittee Chair Robert Aderholt (R-AL) questioned Ms. Mensah and Mr. Hernandez about USDA's proposal to require a minimum rent of up to $50 for the residents of all of RD's multifamily housing programs. Residents currently pay 30% of their income towards rent, with no minimum rent requirement. Mr. Hernandez explained, "We are trying to just make sure that everyone contributes to the success and stability of this program. We have 36,000 residents who can afford to make a minimum payment of $25. We think everyone contributes to the success of this program and that's why we're asking for the fee. [The proposal] allows us to go up $50 but we are proposing to only charge $25. The reason we do that is if things change, we don't have to ask for more." 
Representative Aderholt asked, "And what if they can't pay $50?" Mr. Hernandez did not directly respond, saying, "The fee can be upped to $50 but we will probably only ask for $25."
The Administration's FY15 budget request also proposed $50 minimum rents for RD residents, but Congress did not authorize the change last year.
NLIHC opposes minimum rents for RD units. Making the poorest households pay more for their housing is not how to achieve an adequate RD budget.
Mr. Hernandez's written testimony is at http://docs.house.gov/meetings/AP/AP01/20150318/103115/HHRG-114-AP01-Wstate-HernandezT-20150318.pdf
Ms. Mensah's written testimony is at http://docs.house.gov/meetings/AP/AP01/20150318/103115/HHRG-114-AP01-Wstate-MensahL-20150318.pdf
The hearing may be viewed at http://appropriations.house.gov/calendararchive/eventsingle.aspx?EventID=394042
More about RD programs is on page 4-37 of NLIHC's 2015 Advocates' Guide, http://nlihc.org/sites/default/files/AG_2015_FINAL.pdf