National Voter Registration Day, September 22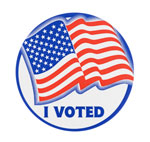 National Voter Registration Day (NVRD) is Tuesday, September 22. NVRD, coordinated by Nonprofit Vote, is a day of coordinated action to help millions of Americans register to vote. 
NLIHC member organizations and individuals are in a unique position to help register the people we care about and serve. NVRD provides the perfect opportunity to get as many individuals as possible registered to vote in anticipation of the upcoming primaries and elections.
More than 1,200 nonprofit organizations across the country have already joined the effort. NLIHC encourages all organizations and agencies in our network, especially those with direct contact with low income people, to hold voter registration events for NVRD.
For more information about NVRD and to become a partner organization for NVRD go to http://www.nationalvoterregistrationday.org/
NLIHC's 2015 Voterization Guide is at http://nlihc.org/sites/default/files/Sec2.14_Voterization_2015.pdf