NLIHC 2015 Advocates' Guide Published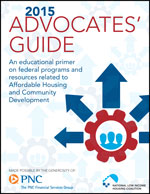 The 2015 edition of NLIHC's Advocates' Guide is now available online. The Advocates' Guide is a compendium of all federal housing, community development, and related programs and issues. Whether you are a new employee at a housing organization, a student in a housing or community development related field, or a seasoned affordable housing advocate looking for a refresher on key programs, the Advocates' Guide provides an overview of housing programs and advocacy tools needed to be a leader in affordable housing. 
NLIHC is grateful to PNC for helping to underwrite the cost of the Advocates' Guide again this year.
NLIHC's 2015 Advocates Guide is available online at http://nlihc.org/library/guides.
E-mail outreach@nlihc.org to purchase a hard copy for $25.