NLIHC Honors Bill Apgar and Shaun Donovan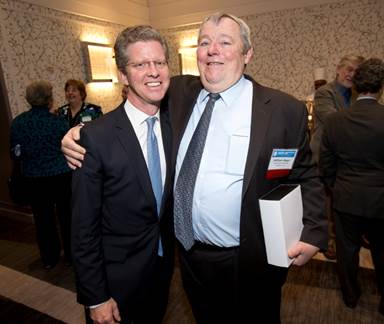 The National Low Income Housing Coalition held its 33rd Annual Leadership Awards Reception on March 3 in Washington, DC. Dr. William C. Apgar of Harvard University received the Cushing Niles Dolbeare Lifetime Service Award, and Office of Management and Budget Director and former HUD Secretary Shaun Donovan was given the Edward W. Brooke Housing Leadership Award. 
The Cushing Niles Dolbeare Lifetime Service Award, named after NLIHC's late founder, goes to an individual who has demonstrated an unyielding commitment to achieving safe, decent, and affordable homes for low income people over a long period of time. Dr. William C. Apgar has been a monumental force in housing policy and research. Before his retirement last year, Dr. Apgar was a Lecturer at the Harvard University Kennedy School of Government and a Senior Scholar at Harvard's Joint Center for Housing Studies. He served as Assistant Secretary for Housing and FHA Commissioner during the Clinton Administration. He returned to HUD in 2009 to serve as Senior Advisor for Mortgage Finance to the new HUD Secretary Shaun Donovan, who is a former student of Dr. Apgar. Dr. Apgar is a member of the NLIHC Board of Directors, as well as several other housing organizations.   
Eric Belsky, former Executive Director of the Joint Center for Housing Studies and now Director of the Division of Consumer and Community Affairs at the Federal Reserve Board, and NLIHC President and CEO Sheila Crowley spoke about Dr. Apgar. Mr. Belsky focused on Dr. Apgar's deep and abiding respect for NLIHC, his numerous accomplishments, his service at HUD, and his unrelenting commitment to affordable housing for all. Mr. Belsky also said he learned a great deal from Dr. Apgar while he was at JCHS.   
Before presenting the award to Dr. Apgar, Sheila Crowley thanked him for his friendship, mentoring, and his work on behalf of NLIHC, especially serving as the chair of the Fund Development Committee. Dr. Crowley read a letter from Senator Elizabeth Warren (D-MA) who stated, "the country was indebted to Dr. Apgar and his service."  On receiving the award, Dr. Apgar expressed his gratitude for this recognition and described Cushing Dolbeare as an inspiration and the "saint of the affordable housing movement." Dr. Apgar thanked his wife Kris for being a steadfast supporter throughout his numerous endeavors.   
The Edward W. Brooke Housing Leadership Award is named for the late Senator Brooke (R-MA) who championed low income housing as a United States Senator and as Chair of the NLIHC Board of Directors after he left the Senate. The Brooke Award goes to an exemplary housing leader with a record of fighting for affordable housing on the national level. NLIHC noted the passing of Senator Brooke earlier this year with a moment of silence at the Leadership Reception. The 2015 Brooke honoree, OMB Director Shaun Donovan, has committed his life to public service. As the 15th HUD Secretary, Mr. Donovan was a strong advocate for funding for the National Housing Trust Fund and a trusted ally of NLIHC.  
Barbara Poppe, former Executive Director of the U.S. Interagency Council on Homelessness, spoke about Mr. Donovan's ability as HUD Secretary to express the importance of housing on issues ranging from healthcare to civil rights. Ms. Poppe lauded Mr. Donovan for his sense of justice and values, which he backed up with his policy advances and HUD budget requests.
Dr. Rafael Bostic, Director of the Bedrosian Center and Judith and John Bedrosian Chair in Governance and the Public Enterprise at the University of Southern California and former HUD Assistant Secretary for Policy Development and Research, sent a video message congratulating the work of Dr. Apgar and Mr. Donovan. Dr. Bostic stated that Mr. Donovan's career was a list of "pioneering action" from his work in New York City to his tenure as HUD Secretary. He said that he was excited to be called to work at HUD because Mr. Donovan was a man "who was marked with integrity" and who had his "heart in the right place."
NLIHC Honorary Board member and reception emcee Bill Faith presented Director Donovan with the 2015 Edward W. Brooke Award. Mr. Donovan remarked that there were three reasons that he would not have missed this event. First, Mr. Donovan spoke of Dr. Crowley's powerful leadership and friendship, and of the honor associated with receiving the Brooke Award from NLIHC. Second, Mr. Donovan spoke of the life-changing impact that Dr. Apgar had on him while he was a student at Harvard and thereafter. Mr. Donovan stated that Dr. Apgar's class opened his eyes to the importance of housing and the possibilities for change. Third, Mr. Donovan was humbled to be receiving an award named for the late Senator Brooke, the first black Senator since Reconstruction, especially with the upcoming anniversary of Bloody Sunday in Selma, AL.  
Mr. Faith thanked the members of the Leadership Reception Host Committee and the many donors, first among them the evening's host, BBVA Compass. BBVA Compass's Director of Corporate Responsibility and Reputation and former NLIHC Board member, J. Reymundo Ocañas applauded NLIHC for its strong advocacy and unwavering commitment on behalf of extremely low income people.
A list of this year's donors is at the end of this issue of Memo and at http://nlihc.org/events/leadership.