NLIHC Releases Out of Reach 2015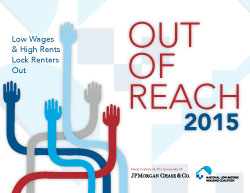 On May 19, the National Low Income Housing Coalition released Out of Reach 2015.
This year, the national two-bedroom Housing Wage is $19.35 per hour. The Housing Wage represents the hourly wage a full-time worker must earn in order to afford a modest apartment while spending no more than 30% of household income toward rent and utilities. Nationally, a household must have income of least $40,240 per year in order to afford a two-bedroom unit at the Fair Market Rent (FMR) of $1,006 per month. In 13 states and the District of Columbia, the Housing Wage exceeds $20 per hour.
Renter wages continue to fall short of housing costs. The average renter in the U.S. earns $15.16 per hour, $4.19 per hour less than the national two-bedroom Housing Wage and 34 cents per hour less than the one-bedroom Housing Wage of $15.50 per hour.
Extremely low income (ELI) households, those with incomes of 30% or less of the area median (AMI), comprise one out of every four renters, and they face daunting challenges in finding affordable housing. Nationally, ELI renter households are only able to afford rents of $509 per month, far less than the two-bedroom FMR of $1,006 and the one-bedroom FMR of $806.
A full-time worker earning the federal minimum wage of $7.25 per hour can afford rent of just $377 per month. A minimum wage earner would therefore need to work 107 hours per week, or have 2.7 jobs, to afford a two-bedroom rental unit. Even to afford a one-bedroom unit, a minimum wage worker would have to work 86 hours per week, or have 2.1 jobs.
The state minimum wages in Washington and Oregon, $9.47 and $9.25 respectively, still fall short of the Housing Wage. The proposal to raise the federal minimum wage to $10.10 per hour would be inadequate; housing would still be out of reach for minimum wage workers in every state in the nation.
This year NLIHC launched a new, interactive Out of Reach website that allows advocates and citizens to compare data from their metro area and county with other metro areas and counties within their state. The new website also features an interactive map with housing affordability rankings for each state, and new downloadable graphics that illustrate the high cost of renting.
NLIHC released the report with a media call featuring the Governor of Oregon, Kate Brown, along with NLIHC President and CEO Sheila Crowley and NLIHC Research Director Megan Bolton. Governor Brown also wrote the preface to this year's report, in which she discussed her proposal to invest $100 million in affordable housing for Oregon households.
Out of Reach 2015 attracted media coverage during the week of its release, including the Diane Rehm Show on National Public Radio, the Wall Street Journal, CBS News, and many other local news outlets. The new Out of Reach website tracks the latest news coverage of the report, as well as all tweets that contain #OOR2015 or #HousingWage.
The new website is at http://nlihc.org/oor
The full report is at http://nlihc.org/sites/default/files/oor/OOR_2015_FULL.pdf