NLIHC Welcomes Malik Siraj Akbar as Communications Specialist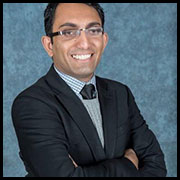 Malik Siraj Akbar joined NLIHC on June 22 as the new Communications Specialist. Malik is the first person to hold this new position at NLIHC, the first time NLIHC has had a staff person devoted full time to media relations.
Malik just completed his Master's degree in Public Administration from Harvard University's John F. Kennedy School of Government. There he was elected Vice President of Communications for the Kennedy School Student Government, and served as the Online Editor of the Citizen, the campus newspaper. Malik was responsible for managing the communications for more than 70 student organizations and professional interest groups.
Malik brings to NLIHC ten years of experience in journalism, communications, and international reporting. He has been a Contributing Writer at The Huffington Post, a Fulbright Hubert Humphrey Fellow (2010-11) at Arizona State University's Walter Cronkite School of Journalism, and a Reagan-Fascell Democracy Fellow at the Washington DC-based National Endowment for Democracy (NED). He was a 2011 Visiting Journalist at the Pulitzer Prize-winning Center for Public Integrity.
Malik founded Pakistan's first English hyper local newspaper, the Baloch Hal in 2009, and previously served as the Bureau Chief of Daily Times in Pakistan's largest province of Balochistan. Malik's writings have appeared in Foreign Policy, The Huffington Post, Chicago Tribune, The Times of India, and several international publications. He has been interviewed or quoted by The New York Times, The Washington Post, The Guardian, CNN, BBC, Al-Jazeera, Reuters, and the Voice of America. Malik is the author of two books, The Redefined Dimensions of the Baloch Nationalist Movement and Pakistan: A Broken Democracy. The Huffington Post Live called Malik "a real mouthpiece for the oppressed."