Out of Reach 2015 Picks Up Robust Media Attention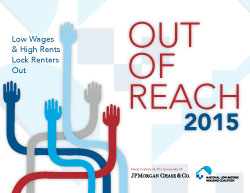 Since the release of Out of Reach 2015 on May 19, NLIHC's annual report has garnered widespread attention from both traditional and social media. To date, Out of Reach has generated 1,138 media hits in a variety of national and local media outlets.
Notable outlets that shared the findings reported in Out of Reach include: The Huffington Post, The Wall Street Journal, The Washington Post Wonkblog, MarketWatch, and Affordable Housing Finance. Two online media articles reached an extensive audience; a Vox article was shared 53,000 times and a CityLab article was shared 462,000 times. Out of Reach also was a featured on radio shows, including The Diane Rehm Show and Here & Now. TalkPoverty used Out of Reach as a catalyst to discuss affordable housing, rising rents, and stagnant wages.
Through the use of social media and help from NLIHC's state partners and fellow advocates, the Out of Reach infographics went viral. The two-bedroom housing wage map and minimum wage map allowed individuals across the country to post via social media platforms using their specific state data. In addition, NLIHC is able to track social media participation and conversation surrounding the report by using the hashtags #OOR2015 and #HousingWage. Along with the positive media exposure, NLIHC gained 270 new Twitter followers and 225 Facebook page likes.
This year NLIHC also launched a new, interactive Out of Reach website that allows users to compare data from their metropolitan area and county with other metropolitan areas and counties within their state. The Out of Reach website has had 41,139 unique page views since it went live.
The new website along with the successful media coverage has allowed even more people to access the report's findings.
The Out of Reach website is at http://nlihc.org/oor
The full report is at http://nlihc.org/sites/default/files/oor/OOR_2015_FULL.pdf