President's Budget Request Reverses Spending Caps, Secretary Castro to Webcast Budget Briefing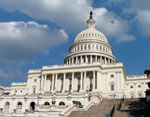 President Barack Obama announced on January 29 that his FY16 budget request, to be delivered to Congress on February 2, will "fully reverse the sequestration cuts for domestic priorities in 2016." The President's budget is expected to exceed caps for discretionary programs set by the Budget Control Act (BCA) of 2011 by $74 billion, a 7% increase over FY15.
The President's budget will be very different from the one that the House and Senate Budget Committees will craft in their budget resolution, which is expected to cut non-defense discretionary spending below the BCA caps. "If Congress rejects my plan and refuses to undo these arbitrary cuts, it will threaten our economy and our military. Investments in key areas will fall to their lowest level in ten years, adjusted for inflation, putting American research, education, infrastructure, and national security at risk," President Obama said in a Huffington Post blog.
Watch for NLIHC's analysis of the President's budget proposal and updated budget chart.
On February 2, HUD Secretary Julián Castro will hold a briefing on HUD's budget request. The 4:00 pm ET briefing will be webcast via http://portalapps.hud.gov/HUDMediaChannel/liveplayer.jsp, a link that will become active a few minutes before the event.
President Obama's blog is at http://www.huffingtonpost.com/barack-obama/obama-budget-middle-class-economics_b_6570948.html