Rally to Lift Sequester Spending Caps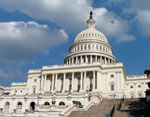 NDD United, a broad coalition of organizations representing non-defense discretionary (NDD) programs, will host a rally at the U.S. Capitol on October 7 calling on Congress to raise the federal spending caps and end sequestration through a bipartisan budget deal. House Minority Whip Steny Hoyer (D-MD) and other Members of Congress are expected to address the rally.
NDD United was formed in response to the 2011 Budget Control Act that imposed strict sequester spending caps and a 6% across-the-board cut to NDD programs in 2013. The Bipartisan Budget Act of 2013 negotiated by Senator Patty Murray (D-WA) and Representative Paul Ryan (R-WI) provided partial, temporary relief from sequestration for NDD programs in FY14 and FY15. Since the Murray-Ryan deal expired on October 1, sequestration has returned in FY16 with a devastating impact on appropriations bills for NDD programs, including critical housing programs. NDD United is working diligently to get Congress to end sequestration for FY16 and beyond.
NLIHC represents affordable housing, homeless, and community development organizations on the NDD United steering committee and has worked has to get many of these organizations engaged in campaign activities.
The NDD United rally will be held at 1:30 pm ET, rain or shine, at the East Front of the U.S. Capitol (the grassy area on the House side between the Capitol and the Library of Congress). Rally participants should arrive by 1 pm.
Those who cannot attend in person are encouraged to rally online via Twitter, by following @NDDUnited and the hashtag #RaiseTheCaps.
To RSVP for the rally, visit: https://docs.google.com/forms/d/1B_u9oR9pz6MbQuAEhxvdjekeXhY2sxVq9DQ9rEzfHHQ/viewform   
To view NDD United's social media toolkit, including sample tweets, visit: http://www.nddunited.org/action/