Senate Agriculture Subcommittee Hears Rural Rental Assistance Woes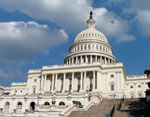 On October 21, the Senate Appropriations Subcommittee on Agriculture, Rural Development, Food and Drug Administration, and Related Agencies held a hearing on Rural Development (RD) issues. Housing was discussed, with a focus on USDA's Section 521 Rental Assistance (RA) program.
Subcommittee Chair Jerry Moran (R-KS) asked how much money the agency would need for the RA program in the FY16 appropriations bill. USDA Under Secretary for Rural Development Lisa Mensah replied that the amount will likely be more than USDA had originally requested but that she did not have a specific figure to share at this time.  She noted the challenges of estimating costs two years in advance, as USDA does for the RA program, to determine actual funding needs.
Ranking Member Jeff Merkley (D-OR) pointed out RA's shortfall of $101.5 million in FY15, with the funds running out this past August. Tony Hernandez, Administrator of the USDA Rural Housing Service, testified that USDA cannot use funds made available by the current Continuing Resolution (CR) to backfill RA's FY15 shortfall.
The CR, which expires on December 11, would permit the amendment of rental assistance contracts entered into or renewed in 2015 that exhausted funds during their 12-month contract period. Because RD believes it cannot amend these contracts, RD has been advising owners that they may raise rents beyond their legal authority to do so. Appropriators believed that the language in the CR allowed RD to amend contracts by an amount sufficient for owners to operate their developments for the remainder of their contract terms.
Senators Moran and Merkley asked USDA officials to help the Subcommittee find a solution to the problem as soon as possible. As Senator Merkley stated, "We promised owners. . . . We have a contract with them." He went on to say that the federal government has an obligation to help families most in need, and the federal government must keep its promises.
Tony Chrisman, Vice President of Chrisman Development, a real estate development firm based in Enterprise, OR, testified on the devastating effects of these shortfalls on rural multi-family housing projects. "Because of the FY15 shortfall," he testified, "RA failed 17 projects, which impacted 770 low income households." According to Mr. Chrisman, there was no official notice that this funding was going to run out in August. Even if Mr. Chrisman wanted to raise rents to fill the funding shortfall, many of his tenants would be unable to pay the higher rents.
"Usually RA is a very stable program that has always paid owners the rents owed to them," commented Senator Merkley. To do otherwise this year would be "inexplicable and wholly unacceptable. . . . We would be putting people in the street across rural America."
In addition to the $101.5 million shortfall for FY15, a $120 million shortfall is already expected for FY16 based on an inadequate budget request from USDA. Both Senators Moran and Merkley stated that they do not want to see funding run out again in August 2016 and urged USDA officials to "get to the bottom of this."
View a webcast of the hearing and read hearing documents at: http://www.appropriations.senate.gov/hearings/agriculture-rural-development-and-fda-subcommittee-hearing-review-of-rural-development-in-21st-century-america