Senate and House Budget Committee Resolutions Maintain Sequester Spending Caps for FY16, Deepen Caps for Next Nine Years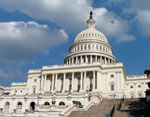 On March 19, the Senate and House Committees on the Budget passed their respective FY16 budget resolutions on party line votes. The two budget resolutions now head to the Senate and House chambers for consideration during the week of March 23. While there are many differences between the two resolutions, they have common characteristics that would be damaging to housing programs.
In a statement after Committee passage, Senate Budget Committee Chair Michael Enzi (R-WY) said, "Today we begin the monumental task of confronting our nation's chronic overspending and exploding debt, which threatens each and every American." House Budget Committee Chair Tom Price (R-GA) said, "By demanding Washington live within its means, we are forcing government to be more efficient, effective and accountable, providing our local communities the freedom and flexibility to improve the delivery of vital services and assistance to those in need, and saving and strengthening vital programs for America's seniors."
Senate Budget Committee Ranking Member Bernie Sanders (I-VT) criticized the Committee's budget resolution, saying, "While the rich get richer and corporate profits soar, millions of Americans are working longer hours for lower wages…Despite that, this morally repugnant Republican budget protects those on top who are doing the best while attacking the needs of the most vulnerable – working families, the elderly, the children, the sick and the poor."
House Budget Committee Ranking Member Chris Van Hollen (D-MD) also was displeased with his colleagues' budget resolution. In his opening statement at the mark-up, he said, "While this budget raises costs and further squeezes hardworking families, students, and seniors, it paves the way for the Romney-Ryan plan to cut the tax rates for millionaires. It is based on the tired and disproven theory that we can grow our economy through trickledown economics."
The Senate and House FY16 budget resolutions would maintain the sequester spending caps for domestic discretionary spending, which will result in flat funding compared to FY15 levels. Both budget resolutions, which provide budget guidelines over the FY16 to FY25 timeframe, would lower the sequester spending caps in FY17 through FY25, resulting in even deeper spending cuts. The House budget resolution would reduce the sequester caps for discretionary spending by $759 billion over these years, while the Senate's bill would lower caps by $236 billion.
Both budget resolutions threaten to use "Fair Value Accounting" when determining the cost of federal credit programs such the single and multifamily insurance programs offered by the Federal Housing Administration (FHA). Fair Value Accounting would require Congress to consider what programs would cost if the private market provided them rather than the federal government.
There are no private market programs that do what FHA does. Therefore any extrapolation on what these programs would cost on the private market is not real. According to the Congressional Budget Office (CBO), using the Fair Value Accounting method would result in having to spend about $8 billion on FHA programs, compared to FHA programs generating about $4.4 billion in revenue today. These funds are used to underwrite federal spending for HUD and other programs. Under Fair Value Accounting, CBO calculates that FHA programs cost the federal government about $3.5 billion. Therefore, not only would Congress have to identify that $3.5 billion to keep FHA programs running, but Congress would also have to find $4.4 billion in new offsets for federal program funding because FHA revenues would not exist under the Fair Value Accounting model. If the annual HUD appropriation was to begin the appropriations process $8 billion in the red because of Fair Value Accounting, funding for every HUD program is at risk.
The House budget resolution would also direct the House Committee on Financial Services to identify at least $100 million in savings from mandatory programs under its jurisdiction through the budget reconciliation process. While the resolution does not provide any specific instructions regarding where the Financial Services Committee might find such savings, the Budget Committee's associated paper, A Balanced Budget for a Stronger America, suggests some savings might be found within the area of community development.
"Our budget thoroughly examines community and regional programs with a specific focus on eliminating those that perform non-core federal government functions, while also consolidating and streamlining duplicative programs wherever possible," the paper says. The committee also recommends expanding the Moving to Work demonstration for high-performing public housing agencies and "support for efforts to end chronic homelessness by urging HUD to refocus efforts to accomplish the Administration's goal of helping to end chronic homelessness by 2017."
Given the wide disparity in the level of cuts between the two budget resolutions, it will be difficult for the two chambers to reconcile the differences and come up with a unified budget resolution.
The Senate Budget Committee's budget resolution is at, http://www.budget.senate.gov/republican/public/index.cfm?a=Files.Serve&File_id=81b01032-186d-4166-b21b-8035b89853d9
The Senate Budget Chair statement is at, http://www.budget.senate.gov/republican/public/index.cfm/press-releases?ID=11e2b496-c2e3-46a4-979d-ee4e5cd9e580
The Senate Budget Ranking Member statement is at, http://www.budget.senate.gov/democratic/public/index.cfm/press-releases-news?ID=d846623e-bb12-4920-8917-9d9a68c257a8
The House Budget Committee statement is at, http://budget.house.gov/news/documentsingle.aspx?DocumentID=393931
A Balanced Budget for a Stronger America is at, http://budget.house.gov/uploadedfiles/fy16budget.pdf
More about the Congressional budget process is at page 2-3of NLIHC's 2015 Advocates' Guide, at http://nlihc.org/sites/default/files/AG_2015_FINAL.pdf