Senate and House Pass Budget Resolutions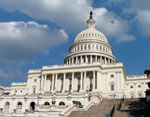 The U.S. Senate and House of Representatives each passed budget resolutions on March 27 and 25, respectively. Both budget resolutions would retain the 2011 Budget Control Act's sequester spending caps for FY16, which will keep non-defense discretionary spending for programs such as housing flat for FY16. Both the Senate and House budget resolutions found ways to circumvent defense spending caps and increase defense spending, with no concurrent offsets. The Senate and House Committees on the Budget will now try to produce a single joint budget resolution.
No Democrat in either the Senate or House supported the resolutions President Barack Obama's FY16 budget request would replace the sequester spending caps with a mix of revenues and mandatory program cuts, yielding a $75 billion increase for defense and non-defense discretionary spending.
After keeping the sequester caps for FY16, the Senate and House resolutions would make deeper cuts in FY17 through FY25. According to a March 24 blog by the Center on Budget and Policy Priorities, "more than two-thirds of cuts in the budget plans that the House and Senate will vote on this week come from low- and moderate-income programs, even though they represent less than one-quarter of federal program costs."
Senator Patty Murray (D-WA) introduced an amendment to the Senate budget resolution to replace sequestration for FY16 and FY17 with tax revenue. Senator Murray's amendment was defeated by a vote of 46 to 53. In support of her amendment, Senator Murray said, "…we all know there is going to have to be a solution to these automatic cuts. President Obama has said that he wouldn't sign spending bills that lock in sequestration. And the fact of the matter is that we simply can't make the investments we need, in both defense and non-defense, if these caps remain in place. We should be able to give our Appropriations Committees the guidance they need to write responsible bills at bipartisan levels, and not wait for another crisis to hit before we come together and make a deal."
Hundreds of amendments to the Senate budget resolution, S. Con. Res. 11, were filed, but most were not considered. These included an amendment sponsored by Senator John Hoeven (R-ND) in support of expanding the Moving to Work demonstration, and an amendment sponsored by Senator Orrin Hatch (R-UT) to consolidate three Rural Housing Service homeownership programs: the Section 502 Direct Homeownership Loans, Section 523 Mutual and Self-Help Housing Grants, and Self-Help Homeownership Loans programs. Passage of either of these amendments would not change current policy because a budget resolution does not become law. It simply provides the framework for Congress's decisions on taxing and spending. However, it would have put Senators on record as either supporting or opposing these policy changes.
An amendment by Senator Sherrod Brown (D-OH) to strike language related to Fair Value Accounting from the Senate's budget resolution was not considered. A fair value estimate for the cost of federal loans, such as those provided by the Federal Housing Administration (FHA), would produce an inaccurate measure of the cost of these loan, because, by definition, these loans are not available on the private market. Using a market value for the cost of FHA loans would artificially inflate their costs, resulting in fewer resources for other federal programs.
The National Association of Realtors (NAR), in a March 26 letter, asked all Senators to support Senator Brown's amendment. "If fair value accounting is adopted, housing loan programs such as FHA, the VA home loan guarantee, and rural housing loans would now become significantly more expensive to borrowers, or they would need increased appropriations - millions of dollars - to cover costs that only appear on paper," NAR President Chris Polychron wrote.
The Center on Budget and Policy Priority blog is at http://www.offthechartsblog.org/congressional-budgets-would-ultimately-cut-programs-for-low-or-moderate-income-people-by-about-40-percent/
The National Association of Realtor's letter on fair value estimates is at http://nlihc.org/sites/default/files/NAR_Letter-to-Senate_RE_Brown-Amendment_032615.pdf.