Senate Appropriations Subcommittee Allocations Approved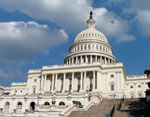 On May 21, the Senate Committee on Appropriations adopted its subcommittee allocations for FY16, including a $55.646 billion allocation to the Subcommittee on Transportation, Housing and Urban Development, and Related Agencies (THUD). The Committee approved allocations on a party line vote of 16 to 14. The House THUD allocation for FY16 is $55.270 billion, $1.5 billion above its FY15 THUD allocation. Ranking Member Barbara Mikulski's (D-MD) offered an alternative to Chair Thad Cochran's (R-MS) allocations, which would have provided $59.586 billion for THUD. The Mikulski allocations were voted down again in a straight party line vote.
To maintain existing housing and community development program funding, the HUD portion of the THUD Subcommittee's jurisdiction needs $3 billion more than was allocated. Although the Senate THUD Subcommittee allocation is better than the House's, it is still insufficient to maintain existing programs.
Senator Cochran (R-MS) commented that "the constraints of these budget limitations are very real. The base statutory caps for defense and nondefense spending are roughly level with the current year. The subcommittee allocations flow from the Budget Control Act (BCA). It is our responsibility to propose appropriations bills that conform to the law, and to do so in a way that best meets public needs."
"I want to advise clearly that the President has said he will veto bills at this allocation," Senator Mikulski said. "I think we are all agreed that we do need a sequel to Ryan-Murray. We need to move it sooner rather than later so we can write realistic bills that keep America safe and invest in our future." The "Ryan-Murray" agreement, referring to Representative Paul Ryan (R-WI) and Senator Patty Murray (D-WA), relaxed the BCA's sequester spending caps, allowing Congress to enact FY14 and FY15 appropriations bills that exceeded the caps.
Senator Murray spoke in support of Senator Mikulski's alternative subcommittee allocations, saying, "If we don't reach a bipartisan deal, these bills will not become law, and they shouldn't."
Senator Lamar Alexander (R-TN) urged opposition to the Mikulski alternative for the time being. "We are going to have a spending discussion. The question is whether to have it now or later. I recommend we have it later so we don't shut everything down now." Senator Alexander said that the discipline of writing bills lower than eventual allocation levels is a responsible way to budget, and that the discussion on overall funding must consider how to reduce mandatory spending. Senator Alexander urged his colleagues to approve the Chair's subcommittee allocations. "Do as many bills as we can before we stop the train and have a discussion on mandatory spending…. I oppose, for now, the amendment."
Timing for consideration of the Senate THUD bill by the Subcommittee has not been announced, but NLIHC understands that it could come as early as the week of June 1.
Chair Cochran's statement is at http://www.appropriations.senate.gov/sites/default/files/hearings/052115-302b-Cochran-Opening-Statement.pdf
Ranking Member Mikulski's statement is at http://www.appropriations.senate.gov/news/mikulski-offers-alternative-allocations-providing-needed-resources-america%E2%80%99s-security-future