Senate-House Budget Conference Negotiations Begin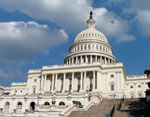 On April 20, members of the Senate-House Budget Conference held their first meeting to negotiate differences between the Senate and House FY16 budget resolutions. Senate Budget Committee Chair Mike Enzi (R-WY) is chairing the negotiations to reach a concurrent budget resolution. Both resolutions would maintain the sequester spending caps put in place by the 2011 Budget Control Act (BCA), restricting FY16 nondefense discretionary spending to flat funding relative to FY15.
At the hearing, Chair Enzi said that a joint budget resolution will restore American's trust in Congress, and that the nation's chronic overspending threatens every American. House Budget Chair Tim Price (R-GA) echoed Chair Enzi's comments, saying that completing a budget is one of Congress's core responsibilities. "We must take a hard look at the status quo and ask ourselves: Do we want to have a nation where our fellow citizens can be trapped in a web of welfare programs that discourage self-sufficiency and instead shackle them to governmental dependency?" Mr. Price asked.
Senate Budget Committee Ranking Member Bernie Sanders (I-VT) called the budget resolutions "nothing less than a disaster for working American families." The budget resolutions would end the Affordable Care Act, and "cut nutrition, child care, military retirement benefits, affordable housing, home heating assistance, and unemployment benefits, as well as tax benefits for working Americans – by more than any budget in at least a decade," he said.
In his statement, Representative Mario Diaz-Balart (R-FL), who is a member of the budget conference committee and the Chair of the House Committee on Appropriations Subcommittee on Transportation, Housing and Urban Development, and Related Agencies (THUD), stressed the need for a strong national defense. "The first responsibility of our federal government is to ensure the safety and security of the American people, which is why our budget needs to fully support our military and intelligence communities. The growing unrest and instability in many parts of the world remind us daily what is at stake," he said.
Both the Senate and House budget resolutions threaten the Budget Control Act's principle of parity between defense and nondefense program funding. Low income advocates think the parity principle is critical to protecting resources for the most vulnerable people because there could be a reluctance to cut nondefense program funding if it means equal cuts to defense programs. However, both budget resolutions include a method to circumvent the defense budget spending caps by authorizing a significant increase for the off-budget Overseas Contingencies Operations (OCO) account. Funds provided through OCO can be used for a variety of defense programs, alleviating the pressure on defense programs under the BCA's caps (see Memo, 2/9).
House Budget Ranking Member Chris Van Hollen (D-MD), called the two choices before the conference committee equally unacceptable. "Both budgets, I believe, are fundamentally wrong for our country and both budgets send a big message to the American people: you're going to be working even harder, but you're going to be getting even less. And so any point between two budgets, both of which are wrong for America, is going to be wrong for America. And I don't know how we can salvage this," he said.
Senator Sanders' statement is at http://www.budget.senate.gov/democratic/public/_cache/files/ca28afb2-456a-440e-a2ba-699587c984b4/the-republican-budget-a-massive-transfer-of-wealth-from-the-middle-class-to-millionaires-and-billionaires.pdf
House Budget Committee Republican statements are at http://budget.house.gov/news/documentsingle.aspx?DocumentID=393943
Ranking Member Van Hollen's statement is at http://democrats.budget.house.gov/press-release/van-hollen-opening-statement-budget-conference-committee
List of budget resolution conference committee members are at http://nlihc.org/sites/default/files/Senate-HouseFY16_budget-resolution-conferees.pdf.