Senate Majority Leader Indicates Negotiations to Raise Caps Inevitable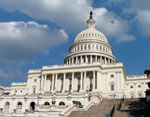 Senate Majority Leader Mitch McConnell (R-KY) indicated during a press conference on September 16 that negotiations on a budget deal that would lift sequestration were likely. "We are inevitably going to end up in negoti­ations that will crack the Budget Control Act once again," Senator McConnell said. "There's a lot of pressure in Congress to spend more; the administration certainly wants to spend more." Senator McConnell also indicated his support for a "clean" short-term continuing resolution (CR) to keep government programs funded past September 30, the end of FY15. A CR will give Congress more time to negotiate a new budget deal and pass annual appropriations.
Meanwhile, House Speaker John Boehner (R-OH) is struggling to find a way to pass a short-term CR while appeasing ultra conservative Members who want to add a rider to defund Planned Parenthood. Many of them have communicated that Mr. Boehner risks being ousted as Speaker if he allows a short-term CR to pass that includes funding for Planned Parenthood.
Meanwhile, President Barack Obama has said he would veto a CR that defunds Planned Parenthood. If Congress is to avoid a government shutdown, it must pass a CR that the President will sign. Senate and House Democrats and the White House are united in their goal to pass a clean CR that does not defund Planned Parenthood and in their commitment to raise the sequester spending caps for FY16.
A year-long CR, as some have suggested, would harm federal programs significantly. As the Center on Budget and Policy Priorities explains in a September 15 paper, a year-long CR would lock in low sequestration levels and fund non-defense programs at their lowest level in the last 50 years. Such a CR would require non-defense program cuts while allowing higher defense spending, which "abrogate the parity principle that underlies sequestration and the Budget Control Act." The White House has consistently indicated that the President will veto FY16 appropriations bills that are based on the sequester figures.
A year-long CR would be particularly damaging to HUD programs. HUD's three largest programs (housing choice vouchers, project-based rental assistance, and public housing) are all funded for calendar-year terms and can weather a CR that goes through December 31, 2015. But after January 1, current level funding would result in significant service reductions to all three programs. "If the eventual 2016 appropriations legislation—full-year CR or otherwise—does not include the necessary increases, tens of thousands of low income families could lose their housing assistance," the CBPP paper says.
United under the "Caps Hurt Communities" campaign, housing, homeless, and community development advocates made calls to Congressional offices on September 15 and 16 urging their Representatives and Senators to lift the sequester spending caps and fully fund affordable housing and community development programs in FY16.
The Caps Hurt Communities campaign, coordinated by the Campaign for Housing and Community Development Funding, has scheduled a webinar on the importance of raising the spending caps, avoiding a year-long CR, and working with local media to explain the harmful impacts of both the caps and a year-long CR. The webinar will take place on October 19 at 3pm ET.
To register for the October 19 webinar, go to https://enterprisecommunity.webex.com/enterprisecommunity/onstage/g.php?MTID=e98ad3fc55909cbc2c57b4b1c16b86adf
Read CBPP's paper at http://www.cbpp.org/research/federal-budget/full-year-continuing-resolution-would-miss-chance-for-sequestration-relief
Visit the Caps Hurt Communities site at http://www.capshurtcommunities.org