Senate Passes Concurrent Budget Resolution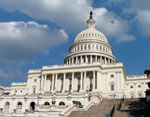 On May 5, the Senate voted 51-48 to approve the Concurrent Budget Resolution (S. Con. Res. 11) on the FY16 Budget. The vote was on straight party lines, with no Democrat voting yes.  The concurrent budget resolution is the outcome of negotiations between the Senate and House on their respective budget resolutions (see Memo 4/27). The House passed the concurrent budget resolution on April 30 (see Memo, 5/4).
The concurrent budget resolution retains the 2011 Budget Control Act's sequester spending caps for FY16 but circumvents sequester caps on defense spending by putting nearly $40 billion in off-budget funds in the Pentagon's Overseas Contingency Operations account. The concurrent budget resolution does not include the House budget resolution's reconciliation instructions to the House Committee on Financial Services to identify at least $100 million in mandatory savings. It does include reconciliation instructions to the appropriate committees to repeal the Affordable Care Act.
The next step in the Senate is for the Senate Committee on Appropriations to produce spending bills that meet the newly approved framework.
Basic information about the federal budget and appropriations process is on page 2-3 of NLIHC's 2015 Advocates' Guide, http://nlihc.org/sites/default/files/Sec2.02_Federal-Budget-Appropriations_2015.pdf