Senate THUD Appropriations Subcommittee Holds Hearing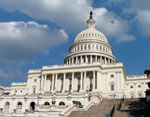 On March 11, the Senate Appropriations Subcommittee on Transportation, Housing and Urban Development, and Related Agencies (THUD) conducted a hearing on HUD's FY16 budget request. HUD Secretary Julián Castro was the only witness.
In her opening statement, Subcommittee Chair Susan Collins (R-ME) said that HUD's request is $4 billion more than its FY15 funding level, a request that ignores the current "broader context of the difficult fiscal environment…[that] includes the return of the ill-conceived and harmful sequestration. While the Ryan-Murray budget agreement enabled us to avoid sequestration in 2014 and 2015, we do not have that luxury when considering the fiscal year 2016 budget." Senator Collins hopes Congress can work with the Administration to "get rid of the sequester while living within our means."
Chair Collins spoke about the benefits of the Community Development Block Grant (CDBG), homeless assistance, and Veterans Affairs Supportive Housing (VASH) programs. She is "deeply concerned" that the Administration is not seeking more VASH vouchers for FY16, and while she understands HUD thinks its programs are ending homelessness among veterans, she is fears HUD is "premature in this belief."
Chair Collins stated that she is pleased with HUD's requests to expand the Moving to Work (MTW) demonstration, to allow income re-certifications every three years for fixed-income households, and to expand energy efficiency programs for the public housing and project-based rental assistance programs.
Subcommittee Ranking Member Jack Reed (D-RI) discussed the significant increase in funds needed merely to renew existing housing assistance, citing that the housing choice voucher program will require an additional $848 million to renew existing vouchers, and the project-based rental assistance program will require an additional $1 billion to renew existing contracts. Senator Reed said that it "appears almost impossible in the face of sequestration, especially with $1.4 billion less in [Federal Housing Administration] receipts" to renew existing subsidies.
Senator Reed, who is also the Ranking Member of the Senate Committee on Armed Services, has urged Congress to provide more for the Department of Defense than allowed by the Budget Control Act's caps. At the THUD hearing, he said that increasing the spending caps for nondefense discretionary programs is also necessary.
Senator Patty Murray (D-WA) said that CDBG, HOME, and the Rental Assistance Demonstration (RAD) are all important to her. "Moving to Work," Senator Murray said, "is especially important to Washington State." Washington has four MTW sites.
Senate Committee on Appropriations Ranking Member Barbara Mikulski (D-MD) briefly joined the hearing to ask Secretary Castro about ongoing negotiations between HUD and the Housing Authority of Baltimore City (HABC) to extend HABC's MTW contract. All MTW contracts between HUD and the 39 participating public housing agencies (PHAs) expire at the end of FY18. HUD is currently negotiating new contracts with these agencies.
HABC is one of 11 MTW agencies for which HUD uses a public housing operating fund formula that is far more generous than the formula used for the other 28 MTW PHAs and non-MTW PHAs. HUD wants to correct this inequity in the next round of MTW contracts. According to analysis by the Center on Budget and Policy Priorities (CBPP), the 11 MTW PHAs were eligible for $7,900 per public housing unit in 2013, 91% more than the average non-MTW agencies and the 28 other MTW agencies. If these 11 MTW agencies received the same average funding as other agencies, they would have been eligible for $260 million less in 2014. Had these funds been available, the rest of the PHAs would have received an additional 5% in operating funds.
Senator Mikulski is concerned about the potential cut of $42 million a year to HABC's operating subsidy. Secretary Castro said, "We need to find a way to work with them and put them all under the same formula" and assured the Senator that he would continue to work with HABC.
The hearing webcast and documents are at http://www.appropriations.senate.gov/hearings-and-testimony/transportation-housing-urban-development-subcommittee-hearing-fy16-hud-budget 
The CBPP report on MTW can be found at http://www.cbpp.org/files/1-21-15hous.pdf.