Upcoming Webinars on FY16 Budget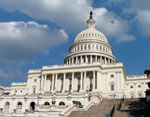 The National Housing Conference (NHC) will host its Annual Budget Forum as a webinar on Thursday, February 19 from 2:00 to 3:30pm ET.
The Forum will provide housing advocates and practitioners with a look at President Barak Obama's FY16 budget request and the impact it may have on housing programs.  Scheduled presenters include Ethan Handelman of NHC, Laura Hogshead of HUD, and panelists representing the spectrum of housing programs.
The Center on Budget and Policy Priorities (CBPP) will host a webinar entitled "Prospects for 2016 Funding and Implications for Voucher Utilization" on February 26 at 2:00pm ET.
CBPP staff will provide an overview of the key dynamics that will affect funding for non-defense discretionary programs in 2016, explain the specifics of the President's request for the Housing Choice Voucher program, and discuss the implications for public housing agencies' decisions this year concerning use of available voucher funds.
Register for the NHC webinar at https://attendee.gotowebinar.com/register/3349103986002571265
Register for the CBPP webinar at https://attendee.gotowebinar.com/register/7513753865737665794