Webinar on Sequester Caps, Budget Resolutions, and Funding for Housing Programs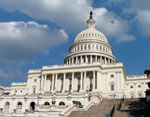 Please join NLIHC on Tuesday, April 21 at 2pm ET for a webinar on what the sequester caps could mean for housing and other programs, what's at stake for HUD and Rural Housing Service programs for FY16, and what advocates can do to protect critical programs.
The House and Senate have each passed FY16 budget resolutions that keep the sequester's spending caps in place for nondefense discretionary programs, such as housing programs. If left unchanged, these caps will ensure flat funding for nondefense discretionary programs for FY16, relative to FY15 funding levels. Key HUD and Rural Housing Service programs require additional funding just to maintain existing levels of assistance.
Webinar speakers will be:
Gideon Anders, National Housing Law Project
Linda Couch, NLIHC
Deborah Weinstein, Coalition on Human Need
Register at https://attendee.gotowebinar.com/register/3303749133118594562