White House Assesses Impact of Senate and House Budget Resolutions on Federal Programs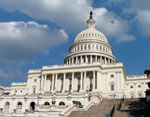 On March 24, the White House published a report, accompanying blog, and interactive map showing a state-by-state breakdown of the differences between the Senate and House Budget Resolutions and President Barak Obama's FY16 budget proposals and the impact of these proposals on federal programs. 
The report refers to the budget resolutions as the Republican Budget. Each chamber passed its budget resolution during the last week in March without a single Democratic vote.
The Administration reports that by maintaining sequestration, the House Republican budget would provide $2.1 billion less in federal funding for Housing Choice Vouchers, resulting in approximately 133,000 fewer very low income families and individuals receiving vouchers, relative to the President's budget.
The report also states that compared to the President's budget, the Republican budget would "[r]esult in the loss of affordable rental housing for 20,000 rural families and elderly or disabled households, many of whom depend on the USDA's Rural Housing Service rental assistance program to be able to remain in their homes."
The Administration highlighted its work to end homelessness, emphasizing the 33% decline in veteran homelessness since 2010, saying, "The President's Budgets have consistently requested the resources needed to meet homelessness reduction goals, and where Congress has provided those resources, we have made great progress." However, despite these steps forward, the White House states that efforts to reduce homelessness among other populations – chronically homeless people, families, and youth – have been impeded by the 2013 sequestration, with 60,000 fewer individuals served by HUD Homeless Assistance Grants than the prior year. While funding for homelessness programs increased in 2014 and 2015 when sequestration was partially reversed, the increases were not sufficient to make up for lost ground, forcing the Administration to change its target for ending chronic homelessness from 2015 to 2017.
The report is at https://www.whitehouse.gov/sites/default/files/docs/budget_resolution_and_sequestration_impacts.pdf
The blog is at https://www.whitehouse.gov/blog/2015/03/24/map-consequences-republican-budget