White House Proposes LITHC Changes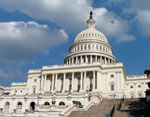 In the budget proposal for the Department of Treasury, the Administration seeks several policy changes to the Low Income Housing Tax Credit (LIHTC), including allowing states to convert some of their private activity bond (PAB) volume cap received for a calendar year into tax credits applicable to the same year. The conversion ratio would change each calendar year to respond to shifting interest rates, and there would be a maximum amount of the PAB volume cap that could be converted. Another proposed policy change would allow for LIHTC projects to elect an "average income" criterion, requiring that at least 40% of the units in the LIHTC project would have to be occupied by tenants with annual incomes that average no more than 60% of the area median income (AMI), but are never individually more than 80% AMI or be treated as less than 20% AMI.
The Administration does not extend the minimum 9% tax credit rate, which expired at the end of 2014, but would increase the discount rate used in determining the present value of credit rates used for allocated tax credits. This change would apply to both the 70% and 30% present value LIHTCs.
The Administration proposes adding preservation of federally assisted affordable housing to the Internal Revenue Service's current list of ten selection criteria that each state must include in its Qualified Allocation Plan. The proposal also would remove the qualified census tract (QCT) population cap.  HUD could designate as a QCT any census tract that meets the current statutory criteria of having a poverty rate of at least 25%, or 50% or more of its households earning incomes less than 60% of the area median income (AMI).
Changes also are proposed to the Violence Against Women Reauthorization Act (VAWA) of 2013 that brings VAWA protections to the LIHTC program. The 2013 legislation did not amend the Internal Revenue Code or contain provisions for enforcing the VAWA protections in LIHTC buildings. The FY16 proposed changes would correct those deficiencies.
For a more detailed review of the Administration's request: http://nlihc.org/sites/default/files/Overview_HUD-FY16-Request_020315.pdf.
Read NLIHC's budget chart: http://nlihc.org/sites/default/files/FY16_HUD-USDA-Budget-Chart_2.5.15.pdf.
For budget analysis by the Housing Assistance Council, go http://ruralhome.org/whats-new/menu-policy/1086-plcy-usda-budget.
For Treasury's budget proposal: http://www.treasury.gov/resource-center/tax-policy/Documents/General-Explanations-FY2016.pdf