White House Sends FY16 Request to Congress, Housing Fares Well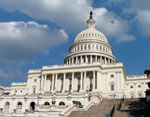 The White House released its FY16 budget request on February 2. The Obama Administration seeks $49.3 billion for HUD, the largest amount it has ever requested for the agency and $4 billion above HUD's enacted FY15 level. The increases for HUD and other domestic discretionary programs are made possible by ignoring the budget caps set by the Budget Control Act of 2011 and ending sequestration (see related article below).
This amount, according to HUD, would provide sufficient funding to renew all housing vouchers and all project-based rental assistance contracts. The proposed budget also seeks increases for the public housing operating and capital funds, as well as a significant increase for voucher administration fees. While a modest increase to the HOME program is requested, fewer resources for the Community Development Block Grant program are proposed.
As in FY15, the Administration seeks increases for homeless assistance programs, Section 202 Supportive Housing for the Elderly, Section 811 Housing for Persons with Disabilities, and Housing Opportunities for Persons with AIDS.
The Administration also makes a number of policy proposals, including a significant expansion of the Moving to Work program, reforms to the CDBG program, and recommendations for statutory changes that would provide public housing agencies more flexibility in the use of their funds and the opportunity to set aside resources for large capital projects for longer periods than is currently allowed.
Again, HUD seeks to lift the cap of 185,000 public housing units for participation in the Rental Assistance Demonstration (RAD) program. The bill also seeks a significant increase for the Choice Neighborhoods Initiative and the Jobs Plus demonstration program.
The President also requests increases in several USDA Rural Housing Service programs for FY16, including increased funding for the Section 515 rental housing program from $24 million in FY15 to $42 million in FY16. According to the Housing Assistance Council, the Administration would double funding for Section 542 vouchers, and seeks greater flexibility in the use of these vouchers when Section 515 properties leave the subsidized inventory. Currently, Section 515 tenants only have access to Section 542 vouchers when the mortgages are prepaid. Under the Administration's proposal, tenants could be assisted with these vouchers after foreclosure or after a Section 515 mortgage reaches the end of its term.