Will Congress Meet December 11 Deadline to Pass FY16 Spending Bill?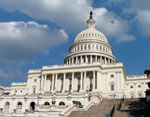 The U.S Senate and House of Representatives are still trying to negotiate a final FY16 omnibus appropriations bill, but controversial policy riders remain the sticking point. After seeing an omnibus proposal from her Republican colleagues on December 2, House Appropriations Ranking Member Nita Lowey (D-NY) referred to the document as a "Tea Party wish list" and lambasted the inclusion of contentious policy riders.
The federal government is running on a Continuing Resolution (CR) that expires on December 11. An FY16 omnibus spending bill was expected to be unveiled by December 7, but it now appears that a short term CR will be needed to prevent a government shutdown. The White House has indicated that President Barack Obama would sign a short term CR.
Negotiations have been underway since Congress reached a deal in mid-November to raise the sequester spending caps, providing $33 billion in additional funding for nondefense discretionary programs, 6.9% more than would have been available if the caps were not raised (see Memo, 11/23).
In an early demonstration of what appropriators might do with additional funding for HUD programs, the Senate considered a revised appropriations bill during the week of November 16. That bill would have increased funding for HUD's housing and community development programs by 3.9%, far short of an equitable share of the 6.9% increase provided by the raising of the sequester caps. The bill did not move to a vote because of disagreements over a refugee-related amendment.
While grateful that the Senate bill increased funding for the HOME program, the steering committee of the Campaign for Housing and Community Development Funding, including NLIHC, sent appropriators a November 24 letter expressing concern that additional accounts were not increased.
"Additional funding would enable Congress to achieve important goals, like reducing homelessness and helping more seniors and people with disabilities to afford housing, preserving more public and assisted affordable housing for the future, and helping more children grow up in more vibrant communities. It would also enable Congress to restore funding for lead hazard abatement and restore more Housing Choice Vouchers that were lost due to sequestration," the steering committee wrote.
Read the Campaign for Housing and Community Development's letter at: http://nlihc.org/sites/default/files/THUD_post-BBA_CHCDF.pdf