The Cushing Niles Dolbeare Lifetime Service Award is named after NLIHC's founder. One of the leading experts on federal housing policy and the housing circumstances of low income people, Ms. Dolbeare was widely known as the godmother of the affordable housing advocacy movement. The award is presented at NLIHC's Annual Housing Leadership Awards Reception.
For the Cushing Niles Dolbeare Lifetime Service Award: Amy Anthony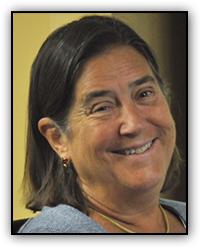 Amy S. Anthony was President and Chief Executive Officer of Preservation of Affordable Housing, a nonprofit organization whose mission is to preserve and steward affordable rental housing for low- and moderate-income individuals and families from 2001-2015. POAH owns and operates nearly 9,000 affordable homes at more than 70 properties in nine states and the District of Columbia.
One of the nation's foremost experts in housing finance and policy, Amy was active in the industry for more than 30 years. From 1983 to 1990, she served as Secretary of the Massachusetts Executive Office of Communities and Development, a $600 million Cabinet-level state agency devoted to producing affordable housing and promoting municipal, community, and economic development.
Under her direction, Massachusetts created and implemented innovative, award-winning programs that produced more than 25,000 homes and have served for decades as models for other states. Amy has also played an active role in the development of national housing policy. In 1987, she was named to the National Housing Task Force which produced recommendations that resulted in landmark housing legislation, including the HOME Program.
She served as President of the Council of State Community Affairs Agencies from 1987 to 1990, and as part of President-elect Clinton's HUD Transition Team in 1992. Amy was a founding member of the Multifamily Housing Institute and has also served on Fannie Mae's Housing Impact Advisory Council, the Freddie Mac Affordable Housing Advisory Committee and the Boards of: the National Equity Fund, the Metropolitan Boston Housing Partnership, and the Women's Institute for Housing and Economic Development. She is a former member of the Board of Directors of Homes for America and a current Board Member of Citizens Housing and Planning Association (CHAPA).
In 2011, Amy Anthony was inducted into the Affordable Housing Finance magazine Affordable Housing Hall of Fame. In 2014, she was honored by the Lawyers Clearinghouse in Boston which provides pro bono legal services to nonprofit organizations and individuals who are homeless or at risk of becoming homeless. In 2015 she was honored with an Excellence Award by the Mass. Housing Investment Corp. She currently serves on the board of the Affordable Housing Institute, a global impact non-profit consultancy.
She is a graduate of Smith College.