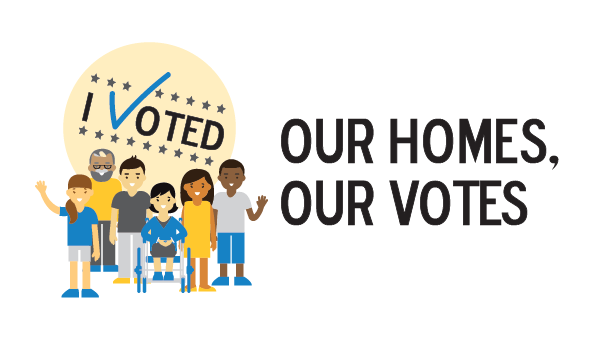 Voter Engagement Information:
Voter Engagement means readying your organization to effectively engage traditionally underrepresented people in civic life.

The past several years have seen significant attempts to suppress the votes of low income people, racial minorities, students, senior citizens, and persons with disabilities. These groups are disproportionately represented amongst renters. In order to ensure that their housing interests are represented, it is critical that organizations engage these renters and other low income people in the voting process.
To help your organization engage voters, NLIHC has updated its Voterization Plan. The plan guides nonprofit organizations through the three step process of Voterization: registration, education, and mobilization. Accompanying the plan is an updated Voterization Narrative Guide. Nonprofits using NLIHC's Voterization resources will find a concise guide for legally and effectively engaging voters for the 2016 election.
Use NLIHC's Voterization Plan and Narrative Guide to bring Voterization to your organization. Then, contact our Outreach Team at 202-662-1530 or outreach@nlihc.org (include "Voterization" in the subject line). We want to know you are taking part in this effort, and will help you with any questions you have along the way.
OUR RESOURCES
VOTER ENGAGEMENT GRAPHICS: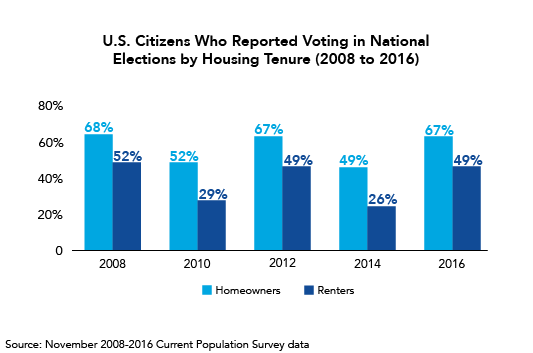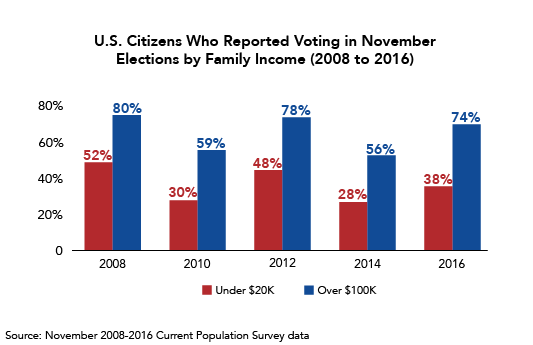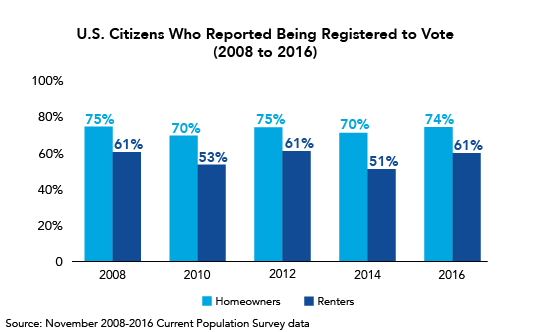 OUR PARTNERS
NLIHC originally developed its Voterization materials with the advice and assistance of these national partners: Alliance for Justice, League of Women Voters, and Nonprofit VOTE.
VOTER ENGAGEMENT WEBINARS
In order to further support organizations engaging voters for the 2016 elections, NLIHC is partnering with experts in the field of voter engagement to provide a series of webinars. The webinars cover the process of Voterization in sequential order. You can click on each webinar to register.
Mobilization: Getting Out the Vote — Originally Aired Thursday, September 15, 2016
---
Understanding and Overcoming the Challenges of Voter Registration — Originally aired on Wednesday, February 17, 2016   
---
Voter Registration and the Challenge of Voter Suppression — Originally aired on June 12, 2014
Educating Voters and Candidates on Housing Issues — Originally aired on July 24, 2014
Mobilization: Getting Out the Vote! – Originally aired on September 8, 2014
---
ADDITIONAL RESOURCES
Nonprofit Vote
www.nonprofitvote.org
Nonprofit Vote "partners with America's nonprofits to help the people they serve participate and vote. [They] are the largest source of nonpartisan resources to help nonprofits integrate voter engagement into their ongoing activities and services." Their guide Nonprofits, Voting & Elections is an excellent all-around resource for nonprofits engaging in electoral work.
Fair Elections Legal Network (FELN)
www.fairelectionsnetwork.com
FELN is a "national, nonpartisan voting rights and legal support organization whose mission is to remove barriers to registration and voting for traditionally underrepresented constituencies and improve overall election administration through administrative, legal, and legislative reform as well as provide legal and technical assistance to voter mobilization organizations." Their state-by-state resources provide information on voter engagement that is state-specific.
National Coalition for the Homeless (NCH)
www.nationalhomeless.org
The NCH is a "national network of people who are currently experiencing or who have experienced homelessness, activists and advocates, community-based and faith-based service providers, and others committed to a single mission: To prevent and end homelessness while ensuring the immediate needs of those experiencing homelessness are met and their civil rights protected." NCH organizes the You Don't Need a Home to Vote Campaign, which specifically focuses on engaging homeless voters.
Vote 411
www.vote411.org
Vote 411 is a resource created by the League of Women Voters Education Fund as a "one-stop-shop" for election-related information. Their website allows users to enter their address and receive a wide range of location-specific information, including everything from absentee ballot rules and information on candidates to polling places and I.D. requirements.
Alliance for Justice – Bolder Advocacy
www.bolderadvocacy.org
Bolder Advocacy is an initiative of the Alliance for Justice. The purpose of this initiative is to
promote "active engagement in democratic processes and institutions by giving nonprofits and foundations the confidence to advocate effectively and by protecting their right to do so." Their page on nonprofit electoral activity will help you understand the scope of your organization's permissible electoral activities based on its IRS tax status.
Brennan Center for Justice at NYU School of Law
www.brennancenter.org/issues/voting-rights-elections
The Brennan Center has extensive engagement with voting rights issues through their work on policy proposals, litigation, and advocacy. Their website contains a range of news and information on voting rights issues from across the country.