2018 Housing Leadership Awards Commemorate NLIHC's Founder Dolbeare and Leaders Brooke and Crowley
NLIHC's Housing Leadership Awards commemorates NLIHC's founder, Cushing Dolbeare, former NLIHC Chair and U.S. Senator Edward Brooke (R-MA), and former NLIHC President and CEO Sheila Crowley. These leaders epitomize NLIHC's enduring commitment to ending homelessness and housing poverty in America.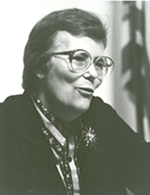 The Cushing Dolbeare Lifetime Service Award is named after NLIHC's late founder who was often referred to as the "godmother" and "conscience" of the affordable housing movement. Cushing established the precursor to NLIHC in the garage of her home in Northeast Washington DC in 1974 in response to the Nixon administration's moratorium on federal housing programs, and she led the organization for many years thereafter. Cushing designed the methodology for and was the original author of Out of Reach, NLIHC's widely-cited annual report on the gap between housing costs and the wages of low income people. The 2018 Dolbeare Lifetime Service Award goes to Lisa Hasegawa, former executive director of the National Coalition for Asian and Pacific American Community Development and NLIHC board member. Ms. Hasegawa receives the award for leading national efforts to address the affordable housing needs of low income Asian American and Pacific Islander communities and working with other civil rights organizations and advocates throughout her career on behalf of people who are poor.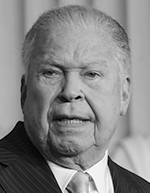 The Edward Brooke Housing Leadership Award is named for the late senator who championed low income housing as a U.S. senator and as chair of the NLIHC Board of Directors after he left the Senate. The first African American to be popularly elected to the Senate, Mr. Brooke partnered with Senator Walter Mondale (D-MN) to develop and sponsor legislation that became the Fair Housing Act of 1968. He also the authored of the 1969 "Brooke rule" that residents of federally assisted housing should spend no more than 25% of their incomes on housing (raised to 30% in 1981). The 2018 Brooke Award goes to U.S. Senator Susan Collins (R-ME) for being a steadfast defender of affordable housing and homelessness programs for many years in the Senate, opposing proposed cuts to critical HUD programs, co-sponsoring the bill that created the national Housing Trust Fund, supporting the Housing First model for addressing homelessness, and more.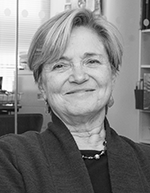 The Sheila Crowley Housing Justice Award is named for former NLIHC President and CEO Sheila Crowley, who led NLIHC for more than 17 years until her retirement in 2016. Among her many accomplishments, Sheila led the national advocacy campaign that eventually succeeded in creating and funding the national Housing Trust Fund, the first new program in a generation design to create and preserve affordable housing for the lowest income people in America.  Matthew Desmond, MacArthur Genius awardee and author of the Pulitzer Prize-winning book Evicted: Poverty and Profit in the American City, will be the first-ever recipient of the Sheila Crowley Housing Justice Award for his groundbreaking work to elevate the need for affordable housing for the lowest income people in America and his calls for bold solutions.
Make a donation today to support NLIHC in its mission to achieve socially just public policy to ensure the lowest income people have decent, affordable homes.
NLIHC's 2018 Housing Leadership Awards Reception will take place in Washington, DC on March 20.  To register for the 2018 Leadership Reception at which Ms. Hasegawa, Dr. Desmond, and Ms. Collins will be recognized, contact Christina Sin at csin@nlihc.org or register online (a separate ticket from the NLIHC Housing Policy Forum, taking place the same week, is required to attend the reception).