Attend the 2017 Housing Leadership Award Reception Honoring Amy Anthony and Ron Terwilliger, April 4
Please join NLIHC for our 2017 Housing Leadership Awards Reception Tuesday, April 4 from 6 pm to 8 pm at the Washington Court Hotel in Washington DC to honor this year's awardees Amy S. Anthony and J. Ronald Terwilliger.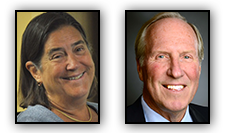 Each year, NLIHC honors two extraordinary individuals for their contributions to affordable housing. This year, former CEO and Founder of Preservation of Affordable Housing (POAH) Amy Anthony will receive the 2017 Cushing Niles Dolbeare Lifetime Service Award for her many years of dedication, service, and innovative leadership in producing and preserving affordable rental housing for low income households. Founder of the J. Ronald Terwilliger Foundation for Housing America's Families Ron Terwilliger will receive the 2017 Edward W. Brooke Housing Leadership Award for his outstanding contributions to elevating the national discussion on recalibrating federal housing policy to better serve the needs of low income households.
In addition to attending the reception, please make a contribution today to honor these two exceptional individuals! The Annual Leadership Reception is NLIHC's single fundraising event, the proceeds of which constitute a significant part of NLIHC's budget.
Register for the event at: http://bit.ly/2mGndKx   
For more information or questions, please contact Christina Sin at csin@nlihc.org or 202-507-7453.