Budget Resolution Still Elusive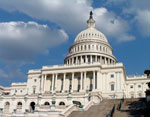 Another week has passed with the prospects of an FY17 budget resolution growing dimmer. On the Senate side, any budget resolution that attempts to undo the $30 billion increase in discretionary spending approved in a compromise agreement last fall would require Republicans who are running for re-election to vote for cuts to entitlements, something they are loathe to do. Such a budget resolution would also upend the FY17 appropriations process. Senate appropriators are proceeding without a new budget resolution, operating under the assumption that the funding levels approved in the two year sequester relief agreement will hold.
In the House, Budget Committee Chair Tom Price (R-GA) may or may not convene the committee to mark-up a budget resolution during the week of March 14. Ultra conservatives remain steadfast in their opposition to allowing the $30 billion increase in discretionary spending to occur without corresponding cuts to entitlement programs. Democrats on the committee will oppose any resolution, so it is unclear if Mr. Price can get the votes to pass a resolution.