Could Budget Reform Lead To Fixing the Mortgage Interest Deduction?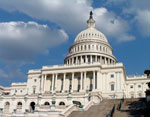 The Committee for a Responsible Federal Budget hosted a Congressional briefing on September 19 related to reforming the federal budget process, with a keynote speech by Senate Budget Committee Chairman Mike Enzi (R-WY). Panelists included Charles Konigsberg from the Federal Budget Group, Roy Meyers from the University of Maryland Baltimore County, Dr. F. Stevens Redburn from George Washington University, and Ed Lorenzen from the Committee for a Responsible Federal Budget.
Chairman Enzi kicked off the discussion by outlining his 10 recommendations for budget reform, which he released in July. These reforms include switching to a two-year budget, limiting the ability to filibuster or offer unrelated policy riders to the budget, eliminating the debt ceiling and making Continuing Resolutions automatic, moving to a portfolio-based budget instead of one by Department, and making budget resolutions binding on Congress, among others. Mr. Enzi also highlighted his "Penny Plan" to cut an additional 1% of federal spending each year until the federal budget is balanced.
The panel discussion focused on the need for a portfolio budgeting process. Dr. Redburn noted that with a portfolio approach, the Budget Committee could consider both tax expenditures and spending programs simultaneously and allow Congress to better prioritize federal spending across agencies. As an example, Dr. Redburn pointed to the mortgage interest deduction, which receives far more funding than HUD and, in his words, "skews heavily to wealthier people and protects special interests."
See more information regarding Chairman Enzi's budget proposals at: http://bit.ly/2cVBE5o