Housing and Community Development Advocates Warn Congress about Impacts of a Long-Term Continuing Resolution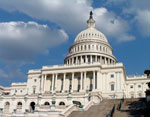 The Campaign for Housing and Community Development (CHCDF) delivered a statement to Members of Congress explaining why a long-term stopgap funding measure, known as a continuing resolution (CR), puts the FY17 affordable housing budget at risk. CHCDF urged lawmakers to enact clean, full-year FY17 spending bills for HUD and the U.S. Department of Agriculture (USDA).
The statement reads:
"A long-term CR at FY16 levels would result in deep cuts to critical housing programs that could cause thousands of families and children to lose access to stable housing, putting them at increased risk of homelessness.
"America is in the midst of a growing affordable housing crisis. Housing costs are rising faster than wages, all while our nation's infrastructure and housing stock is deteriorating. One in four renters in America is spending more than half of household income on rent, and family and young adult homelessness rates are rising in many communities across the country as growing numbers of people are unable to pay for a place to live.
"To address the affordability crisis and build upon achievements made in decreasing the number of people experiencing homelessness, Congress should increase the number of families who are able to afford homes due to HUD and USDA programs, not reduce it.
"A long-term CR would only make it more difficult for America's most vulnerable families to access safe, decent, and affordable housing."
CHCDF is an education, strategy and action hub for national organizations dedicated to adequate federal housing and community development funding for lower income families and communities. CHCDF's members represent a full continuum of national housing and community development organizations, including more than 70 faith-based, private sector, financial/intermediary, public sector, and advocacy groups. CHCDF is staffed by the National Low Income Housing Coalition.
Read the complete CHCDF statement at: http://bit.ly/2aK61e1