Join August 25 Twitter Storm Urging Congress to Fully Fund Affordable Housing Programs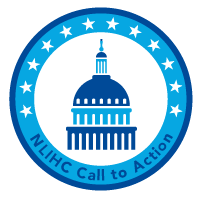 Please join NLIHC and the Clean Budget Coalition for a Twitter storm on August 25 from 2-2:30 pm ET to urge Congress to fully fund affordable housing and community development programs in FY18 and to reject harmful policy riders that undermine federal fair housing laws.
Background
When Congress returns to Washington, DC in September, the House will vote on a spending bill that would significantly cut funding for critical affordable housing programs. The bill would eliminate more than 140,000 housing vouchers and reduce flexible resources used by states and localities to build and preserve affordable housing and address community needs. Unless Congress lifts the low spending caps equally for defense and domestic programs, affordable housing and community development investments will remain at risk. For more details, see NLIHC's updated budget chart and analysis of the House and Senate bills.
It is also critical that Congress reject harmful policy riders that could be added to the spending bill that would undermine federal fair housing laws. In the past, the House has adopted amendments to prohibit HUD from enforcing its Affirmatively Furthering Fair Housing (AFFH) rule and making available its AFFH assessment tool. AFFH clarifies existing fair housing obligations and empowers states and local governments to more fairly and effectively invest federal funds in their communities. 
By participating in the August 25 Twitter storm, you can urge Congress to lift the low spending caps that threaten critical investments and reject harmful policy riders.
Sample Tweets:
Use the hashtags: #cleanbudget and #cutshurt
Without a #cleanbudget that lifts the spending caps, Congress would put vital investments in #affordablehousing at risk. #CutsHurt
We have an #affordablehousing crisis. This is not the time to put vital investments at risk. Pass a #cleanbudget. #CutsHurt
America is stronger when families have #affordablehousing. Tell Congress to pass a #cleanbudget and increase vital investments. #CutsHurt
#Cutshurt low income seniors, ppl w/ disabilities, kids, and more. We need a #CleanBudget that invests in #affordablehousing.
America is stronger when we have affordable homes & stable communities. Pass a #CleanBudget that fully funds these investments. #CutsHurt
Families thrive bc of housing & community development investments at HUD and USDA. Congress must pass a #CleanBudget. #CutsHurt
With an affordable home, families can climb the economic ladder and kids do better in school. Invest in kids w/ a #CleanBudget. #CutsHurt
Affordable homes are linked to better health. A #CleanBudget with #affordablehousing investments will make our communities healthier.
Want better health, education, & econ mobility? Pass a #CleanBudget that fully funds #affordablehousing. #CutsHurt http://bit.ly/2ljnEed
HUD investments led to 500K jobs in 2015, on top of providing homes to 5M families. Pass a #CleanBudget #CutsHurt http://bit.ly/2ljnEed
Thanks to HUD and USDA, millions of families have a place to call home. Pass a #CleanBudget now because #CutsHurt http://bit.ly/2ljnEed
#Affordablehousing boosts the economy in your state. Tell Congress to pass a #CleanBudget w/ full $$. #CutsHurt http://bit.ly/2ljnEed