New Infographics Illustrate Federal Budget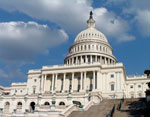 The Congressional Budget Office has released a set of infographics on FY15 spending and revenues and revenue and spending trends since FY95. The graphics show breakouts of the $3.7 trillion in federal spending and the $3.2 trillion in revenues in FY15. They depict federal revenues and discretionary and mandatory spending, as well as the federal deficit and debt. Federal spending for housing represents a portion of the $583 billion spent in FY15 on nondefense discretionary programs.
The infographics are quite helpful in explaining the difference between mandatory and discretionary spending, and the federal deficit.
The graphics are available at https://www.cbo.gov/publication/51114?utm_source=feedblitz&utm_medium=FeedBlitzEmail&utm_content=855024&utm_campaign=0